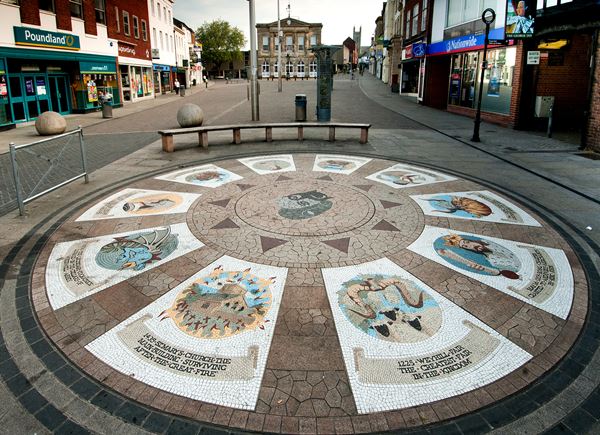 National chewing gum campaign comes to Andover
Test Valley Borough Council is supporting the National Chewing Gum campaign this week.
Staff from the Environmental Service team will be in Andover Town Centre on Thursday, 14 September, to raise awareness of the issue of gum litter. They will be monitoring the gum dropped before, during and after the campaign and highlighting the fact that discarded gum is litter which attracts a fine, it blights our streets and is time consuming and expensive to remove.
In Andover, chewing gum spots will be circled in chalk, there will be a "Grime Scene" in the Time Ring and free gum wraps will be distributed to people, whilst getting the message out about gum litter and the fines associated with dropping gum. Volunteers will be giving out posters and window stickers to shops selling gum, pop up banners will be displayed at prominent locations in the town and beer mats with distinctive campaign messaging will be distributed to pubs. Street scene vehicles will also be displaying posters about gum litter throughout September. This activity is part of the Chewing Gum Action Group's (CGAG) 2017 campaign which aims to raise awareness around responsible gum disposal.
Leader of the Council, Councillor Phil North, said: "Test Valley Borough Council has a zero tolerance approach to littering, and litter includes all smoking, drinking and food related waste including cigarette butts and chewing gum. However, of all the items that end up as litter, one of them can't be swept away and that's chewing gum.
"Incorrect disposal of chewing gum is a significant issue for us and an important and emotive issue for local residents, as well as being costly to remove."
Allison Ogden-Newton, Chief Executive at environmental charity Keep Britain Tidy, a partner in CGAG, said: "The Chewing Gum Action Group's aim is to reduce gum litter by working with councils and partners across the UK. For over ten years CGAG have been committed to using creative ways to get people to bin their gum when they've finished chewing. From our experience, we know these campaigns work and really resonate with people. The group's 2016 campaign, for example, saw chewing gum litter reduce by an average of 36% in participating areas, demonstrating the impact CGAG's campaign work can have on the UK's littering behaviour."