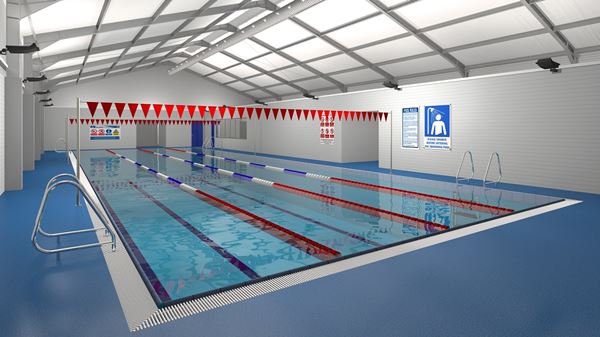 Temporary pool update
The contractor building the temporary swimming pool for Andover has told us that they are unable to meet the revised completion date of 29 September.
Total Swimming informed the Council on Wednesday that the pool opening would have to be delayed until Oct 20th at midday.
Leisure Portfolio Holder, Councillor Tony Ward said: "Together with Places for People Leisure, we are extremely frustrated by this news and share the disappointment of our residents."
Total Swimming's MD Steve Parry said "The delay is extremely frustrating for all parties. Despite the delay we are confident that the public will benefit from a truly world class facility that we are delivering for the council."
Andover Leisure Centre will be in touch with those people who have made bookings. In the meantime, customers are still able to use Fleming Park Leisure Centre in Eastleigh and River Park Leisure Centre in Winchester, under the current arrangements."
The Council and Places for People Leisure will continue to work with the other interim swimming venues to ensure the swimming club can continue to use those facilities until the temporary pool is opened.
Once the temporary pool opens it will remain available for use until the new Andover Leisure Centre is completed.
As soon as we have any more news we will communicate this, but in the meantime if you have a booking related query then please contact the Leisure Centre at enquiries@andoverswimmingpool.org.
Construction on the new Andover Leisure Centre which is being undertaken by a different contractor as part of the leisure management contract has already begun and is on track to open Spring 2019 as planned. Customers can see the latest photographs and keep up-to-date on construction news at:www.placesforpeopleleisure.org/centres/andover-leisure-centre/