Tadburn Meadows Local Nature Reserve
Tadburn Meadows Local Nature Reserve, located in Halterworth, Romsey covers an area of approximately 5 hectares. Owned by Test Valley Borough Council since 1982 Tadburn Meadows was officially designated a Local Nature Reserve in 2002. Although largely serving as a public open space for informal recreation, wildlife conservation remains a priority. It has become as important today for people as it is for wildlife, being an oasis of countryside in an urban setting.
Despite being a relatively small site, Tadburn Meadows plays host to a mosaic of habitats so formed due to the varying hydrology of the wet valley bottom and dry valley sides. The fast flowing Tadburn stream runs through the site and is surrounded by wet willow and alder dominated woodland. Meadows can also be found South of the Tadburn stream. The reserve is home to many of the country's best loved species from the green woodpecker and kingfisher, to water voles and common spotted orchids.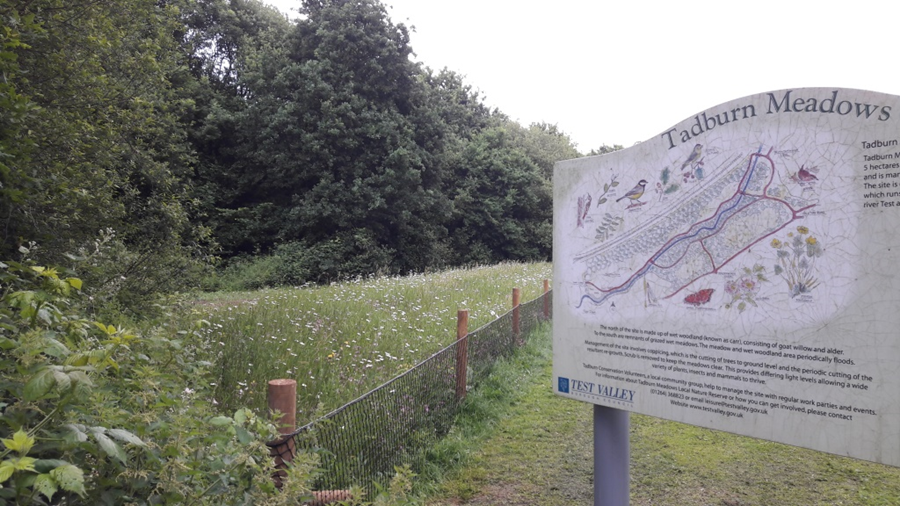 A new wildflower meadow has be planted using wildflower turf at Tadburn Meadows Local Nature Reserve. This will encourage a variety of insects and birds to visit the open amenity grassland on the site.
Get Involved
We work in partnership with volunteer groups and contractors to manage the site. The Tadburn Conservation Volunteers can regularly be seen around the site and play a fundamental role in the management and enhancement of Tadburn Meadows.
Activities and Events
A Programme of Activities has been planned for 2019. See the attached Countryside Events and Activities Leaflet.
Useful to Know
Tadburn Meadows Local Nature Reserve, SO51 5BQ
Accessible for pushchairs and wheelchairs.
On-site information boards
Contact Us
For more information about the Reserve or if you would like to get involved with any events or activities or join the Tadburn Conservation Volunteers contact the Countryside Officers on 01264 368000 or email community&leisure@testvalley.gov.uk

Subscribe | View Subscriptions