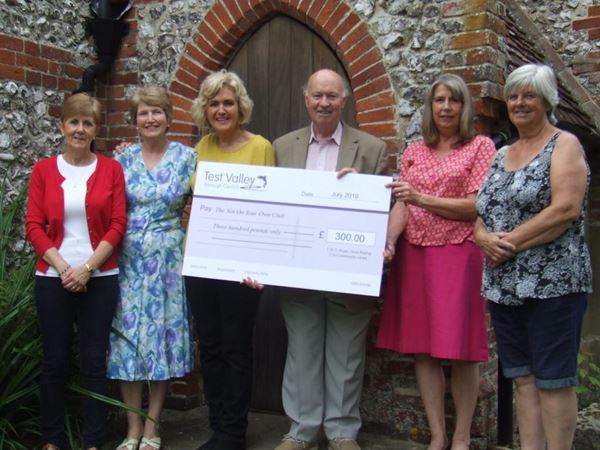 Councillor Community Grant
Not On Your Own club receives £300
Over Wallop ward member, Councillor Tony Hope, has awarded a £300 Test Valley Borough Council Councillor Community Grant to the parish's Not On Your Own Club, an organisation which entertains and supports people who live alone and encourages them to meet with other residents in their local area.

The Not On Your Own Club meets for a tea party on the last Sunday of every month, at St Peter's Church. The group organises social events, day trips and other activities that encourage people to get out and about in the community to see friends and meet new people.

Councillor Tony Hope said: "The Not On Your Own Club is a fantastic opportunity for local people to form new friendships. The club offers support to local people who might otherwise be isolated, so I am delighted to support the club with the Councillor Community Grant."

Shirley Mongor, one of the schemes founders, said: "We are very grateful to Councillor Hope for the grant. So far, we have been able to organise social meetings with quizzes, bingo, singing, and trips out for our members, including a trip to The Wilton Shopping Village and the Wilton Garden Centre where we also enjoyed tea and cake. We hope to provide more events over the summer and an event at Christmas. I'd like to encourage anyone who lives on their own and is interested in joining us to come along to one of our sessions at St Peter's Church."

The Test Valley Borough Council Councillor Community Grant scheme helps to fund community-led initiatives. Local councillors allocate funds to projects that they identify as meeting a need in the community based on feedback and ideas from residents.