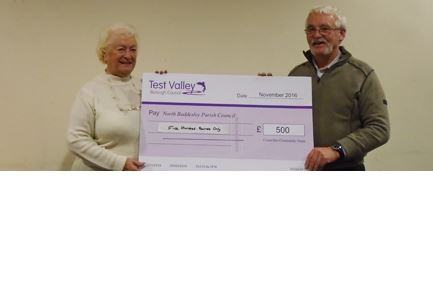 Parish Council plans its future
North Baddesley thinks ahead
North Baddesley Parish Council has taken another step towards delivering a Parish Plan thanks to a £500 Councillor Community Grant.
North Baddesley ward members, Councillor Ann Tupper, Councillor Celia Dowden and Councillor Stephen Cosier, awarded the grant to the Parish Council to enable it to carry out consultation activities to find out what members of the public would like to progress, maintain or improve in their community. Parish plans are designed to identify any local social, environmental and economic issues that will be used to influence a long term plan for the area.
Councillor Ann Tupper presented the cheque to the Chair of North Baddesley Parish Council, Councillor David Knight, on 28 November. Councillor Tupper said: "I'm really pleased to present this cheque. A Parish Plan would be a fantastic tool to help the community to look to the future and think about what will be important in years to come."
Councillor David Knight added: "I would like to thank the Test Valley Borough Councillors for the grant. We will use the money to print surveys, advertise the consultation and attend events that encourage people to get involved. This is a really exciting time for the parish so we are looking forward to gathering more ideas from the public."
The Councillor Community Grant scheme helps to fund community-led initiatives. Local councillors allocate funds to projects that they identify as meeting a need in the community based on feedback from residents.