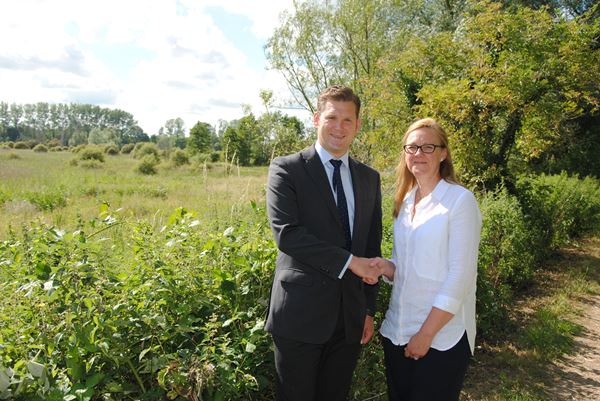 Fishlake Meadows to be managed by wildlife trust.
Test Valley Borough Council has entered into a partnership with the Hampshire & Isle of Wight Wildlife Trust to guide the management of Fishlake Meadows Nature Reserve in Romsey.
The Wildlife Trust was awarded the contract this week . They were the successful bid out of a number of organisations that had been invited to submit tenders and this bid was approved at a Cabinet meeting last week.
Community and Leisure Portfolio Holder, Councillor Tony Ward, said: " Fishlake Meadows is known for its beautiful and unique wildlife, including more than 170 species of birds. We are looking forward to progressing our plans with the Trust and local community to manage the site for the benefit of both wildlife and people".
Leader of the Council, Councillor Phil North said: "It was great to meet Deborah to discuss our joint plans for the future of the site; to protect nature whilst creating better public access. Fishlake Meadows has the potential to become the jewel in the crown of Romsey and southern Test Valley and I'm looking forward to working with the Hampshire & IOW Wildlife Trust."
Deborah Tann, Chief Executive of Hampshire & Isle of Wight Wildlife Trust, said: "This is an incredibly exciting opportunity. Fishlake Meadows is a truly unique site and already home to a fantastic array of wonderful birds and other important wetland species. We know that this place is much loved by the community as well as those with a passion for wildlife. We very much look forward to working with local residents and Test Valley Borough Council to ensure that Fishlake Meadows can become a real haven that both wildlife and people can enjoy for many years to come".
The nature reserve, which was previously owned by Bellway Homes, was transferred to the authority as part of the Oxlease Farm housing scheme.
Fishlake Meadows covers approximately 60 hectares and comprises a mix of open and standing water, reed bed and swamp.
Picture caption: Leader of Test Valley Borough Council, Phil North with Chief Executive of Hampshire & Isle of Wight Wildlife Trust, Deborah Tann at Fishlake Meadows.