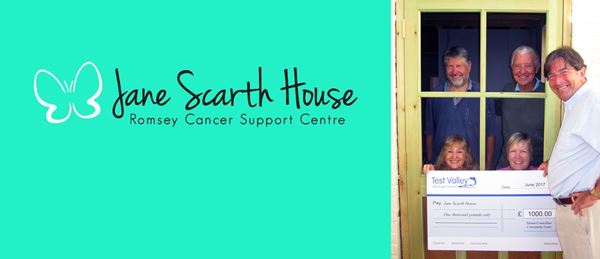 Grant to Jane Scarth House
A cancer support charity in Romsey has received a £1,000 Councillor Community Grant to help to extend and refurbish its new premises.
Jane Scarth House is preparing to move to 37a The Hundred – a town centre unit that will provide a peaceful, warm ambience for its clients – but is not quite large enough to fulfil its requirements. The charity has run a community project to build an extension which will provide additional therapy and counselling rooms as well as a befriending area.
Tadburn ward member, Councillor Mark Cooper, presented the grant to Trustees Elaine Grainger, Sue Jones, Mike Street and Paul Grainger, on 7 July. He said: "Jane Scarth House is an impressive charity that supports local people living with cancer, whether they are patients, friends, family or carers. I am absolutely delighted that they have found a new building to work from and I am pleased that the Council has been able to help its fundraising to make the premises even more fit for purpose. I am looking forward to seeing the work progress."
Sue Jones added: "We have been overwhelmed by the response we've had to the project. Thanks to the support of local businesses, traders and volunteers, we've actually only had to raise a fraction of the total cost ourselves to date, with donations of labour, materials and money covering a huge proportion of the build costs. It's amazing and we are so excited about moving to premises that will provide an improved and accessible facility for our clients."
For more information about the grants available from Test Valley Borough Council, please visit www.testvalley.gov.uk.