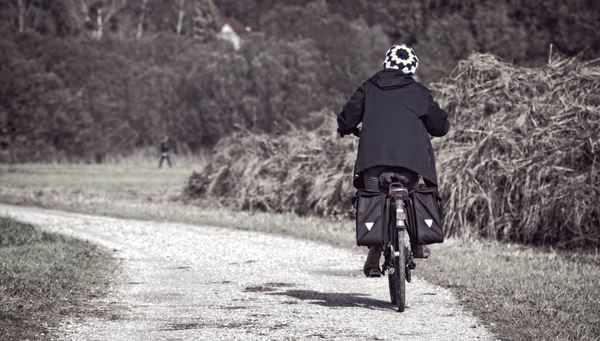 Commuter cyclists can carry more
Cyclists that use shared bikes as part of their commute will soon be able to transport more of their belongings, thanks to an innovative bag design by Katie Carrick-Buchanan.
Based in Andover, Katie and her husband Sandy designed the bag after they found problems with fixing standard panniers to London's hire cycles. Seeing a gap in the market, the pair designed a stylish shopping tote that can be attached and detached to the bike, and used as a weather-proof, flexible, robust bag compatible with hire bikes in cities across the world. Katie was then successful in her application for Test Valley Borough Council's £750 Business Incentive Grant, which was presented by ward member for Hurstbourne Tarrant, Councillor Peter Giddings.
Katie said: "We are really excited about the future of the business. We've carried out extensive research into the types of cycling equipment available in the UK as well as the cycling industry itself. Commuter cycling is becoming more and more popular and we are confident that the product will be a success. I'd like to thank Test Valley Borough Council for the Business Incentive Grant which has helped us to launch our new business."
Councillor Peter Giddings, said: "I am very impressed with the designs that Katie and Sandy have created. The product is currently being refined and a prototype is being produced in China where Katie has built an impressive network of contacts. It is a very exciting time for the couple and they are keen to see their hard work pay off in the coming months. I wish the pair the best of luck in taking the business forwards."
The Council's Business Incentive Grants are available to anyone looking to set up their own business in Test Valley. Anyone who successfully applies for the grant will receive a grant of £750 if their business is still going strong six months later.

For more information about the Council's Business Incentive Grants, click here