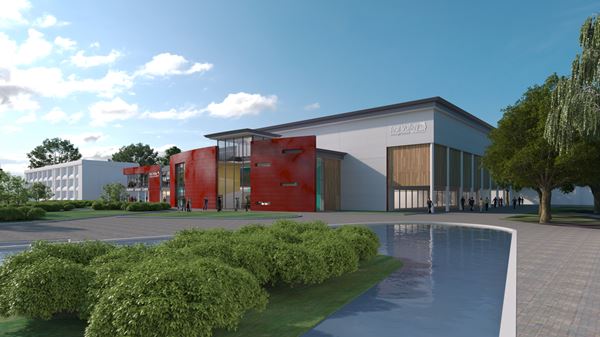 Leisure Centre plans approved
Councillors vote on planning application
The last step of the journey to approve the building of a brand new, multi-million pound, state of the art leisure centre for the benefit of Andover was made on Thursday evening (30 March).

At a meeting of the Northern Area Planning Committee, the application from Places for People Leisure Management Ltd to demolish and rebuild the Andover Leisure Centre was approved by Councillors.

Community and Leisure Portfolio Holder, Councillor Tony Ward said: "At a time of budget cuts and austerity elsewhere, we are investing over £16 m in a major project as part of the Borough Council's long term plans for the future vitality and benefit of the town.

"I know there have been a lot of concerns and questions and we have acknowledged and responded to them all. This includes answering queries directly, by providing regular updates and information and putting a list of FAQs on our website. It is difficult to please everyone but I firmly believe that we have made the right decision for the community as a whole.

"I am sorry that people will experience disruption to their sport and leisure activities whilst the building work takes place but we are doing everything we possibly can to minimise this. This includes ensuring that the centre will not be closed completely, phasing the different aspects of the building programme, displacing activities to neighbouring facilities where possible and providing temporary swimming provision. It is a short term loss for a long term gain.

"The process to get us to this point has taken several years and involved a huge amount of work to get the best possible outcome for our residents. I am looking forward to working with the Places for People team over the coming years and ensuring that we continue to deliver the high quality leisure facilities that our residents deserve and expect."

The new Andover Leisure Centre will feature a 165-station fitness suite including a virtual cycling studio, 25m six lane pool with 15m learner pool, dance studios, eight court sports hall, squash courts, adventure play, and café. The impressive new centre will also offer a splash pad and Clip and Climb™ to encourage more young people to adopt healthy habits for life.
Test Valley Borough Council agreed to award the 30-year contract to Places for People at a full council meeting on 9 November 2016.

As part of the terms of the new contract, which starts on 1 April 2017, significant improvements will be made to the other leisure facilities in the borough including Romsey Sports Centre, Knightwood Leisure Centre, where there will be state of the art fitness suites and Charlton Lakeside Pavilion which will get an exciting zip wire facility.

Places for People Leisure currently partners 35 local authorities, managing 112 leisure centres across England. Its sites attract over 30 million visits every year and in the past ten years the award winning organisation has built 14 new leisure facilities.

John Bates, Business Development Director at Places for People Leisure said, "We are looking forward to working in partnership with Test Valley Borough Council to enhance the leisure provision across the borough. The new Andover Leisure Centre will ensure the delivery of an accessible community leisure facility that provides the latest innovations and initiatives to encourage more members of the community to adopt a more active and healthy lifestyle."