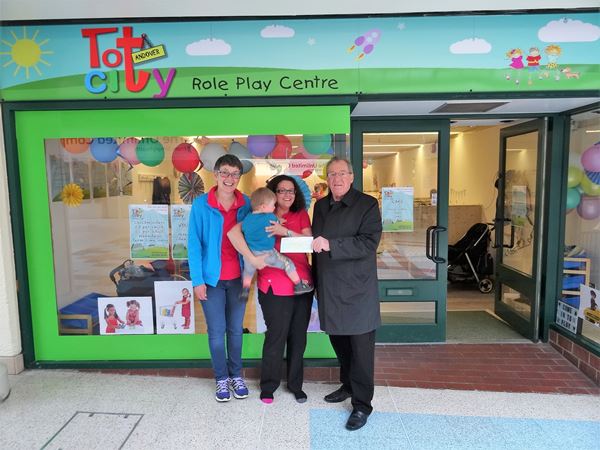 Council supports children's play centre
A new children's play centre in Andover's Chantry Centre has received a £750 Business Incentive Grant from Test Valley Borough Council.
Totcity, a centre where children can have fun and learn through role play, opened in October 2016. Its two entrepreneurial owners, Ronelle Wild and Louise Benning, brought together a desire to start their own venture with their considerable experience working in childcare and they haven't looked back since! Totcity allows children to dress up and play in settings including a restaurant, hairdressers, doctors' surgery, supermarket and car garage. The centre also offers children's parties with catering options.
Ward member for St Mary's, Councillor John Cockaday, presented the cheque to Ronelle when the business celebrated its first six months of trading. Councillor Cockaday said: "Totcity is an incredibly successful concept. Ronelle and Louise have worked very hard to re-purpose a former retail unit and get the business off the ground. Their creativity is inspiring to young children and I wish them all the best."
Ronelle added: "I'd like to thank Test Valley Borough Council for the Business Incentive Grant. We are both very passionate about Totcity and we love what we do so all the hard work is worthwhile. We are excited about the future of Totcity and we invite parents to visit our website, book a play session or a party, and join in the fun!"
The Council's Business Incentive Grants are available to anyone looking to set up their own business in Test Valley. Anyone who successfully applies for the grant will receive a grant of £750 if their business is still going strong six months later.

For more information about the Council's Business Incentive Grants, visit www.testvalley.gov.uk.