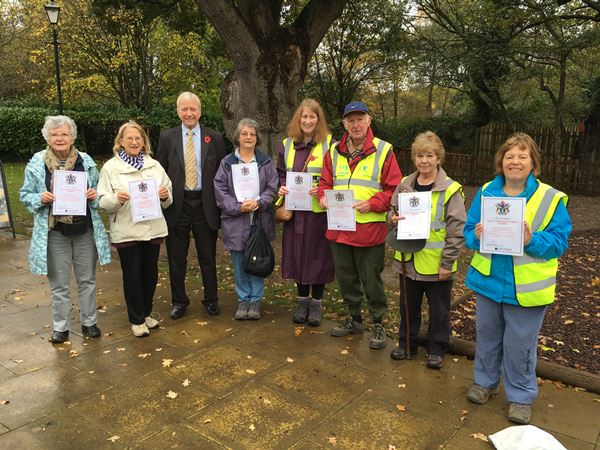 Birthday celebrations for Valley Park health walkers
Valley Park Health walk has just celebrated its 10th birthday.
Although the weather wasn't ideal, 30 walkers still attended. Some of them were there at it's inception in 2007 and still attend every week.
They had a choice of a longer, main walk and a leisurely walk. The rain held off until the group got back to the Cleveland Bay pub in Chandlers Ford.
Lunch was a "bring a dish" affair, so a large selection of cake, sandwiches and savouries were on offer. Councillor Alan Dowden presented the volunteer health walk leaders with certificates of recognition for their outstanding support to the Valley Park Community on behalf of the Mayor, Councillor Carl Borg-Neal.
Valley Park Health Walk takes place every Saturday morning from the Cleveland Bay at 10.30am. The walks are offered free of charge and are run by a proactive group of volunteer health walk leaders.
To take part in a walk simply turn up 5 minutes before a walk to complete registration paperwork. If you are interested in becoming a health walk leader and attending a free training course, contact Louise Trayling on 01264 368649