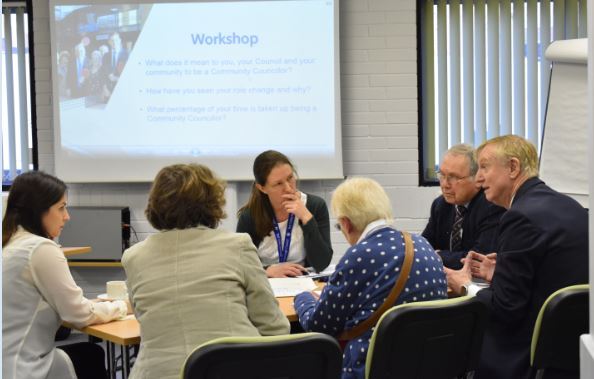 Council host prestigious event
The first of three national events for local Councillors from across the country has been hosted by Test Valley Borough Council
The Councillor Commission event, held at the Lights Theatre, saw 75 delegates come together to discuss the findings of a report published earlier this year by Professor Colin Copus of the De Montfort University, together with the MJ.
Entitled "The Voice of the Councillor" , the report gives the results of a year-long commission exploring the work of councillors across England.
Professor Copus said: "To ensure that voice is heard a unique partnership has been formed between De Montfort University, the Municipal Journal, the Association of Democratic Service Officers, Kirklees MBC, Leicester City Council and Test Valley Borough Council. These events explore the report's findings with councillors, officers, local communities and all those passionate about the state of local democracy.
Associate Professor of De Montfort University, Alastair Jones added "We are very grateful for the huge support from Test Valley Borough Council and delighted that the first of these three national events has gone so well.."
Leader of Test Valley Borough Council, Councillor Phil North said: " It is a real privilege to be chosen to host the very first national Councillor Commission event. We were able to showcase the way in which our organisational thinking is focused on people and places, how we give Councillors the support and information they need to be a leader in their community and how they can make a difference. The examples of our joint partnership working demonstrated through Andover Vision and Romsey Future were particularly well received.
" As Councillors, we all have an important leadership role to play in enabling our communities to reach their full potential, and as a result, improve the quality of people's lives. This is the job for all of us, regardless of which tier of government we represent. Whether it is a parish, town, district, county or unitary, our collective responsibility is to work together and ensure all of our communities are represented and prosper."
Councillor Mike Evans, Commissioner for the Councillor Commission agreed: " We talked today about the importance of forging relationships between parish and town councils with principal councils and I am looking forward to progressing the things we learned from this important day."
Delegates saw a video highlighting some of the work Test Valley Borough Councillors do within their community and the role of the Community Councillor.
The video is available to watch here: https://youtu.be/j_hVPgoWrBY