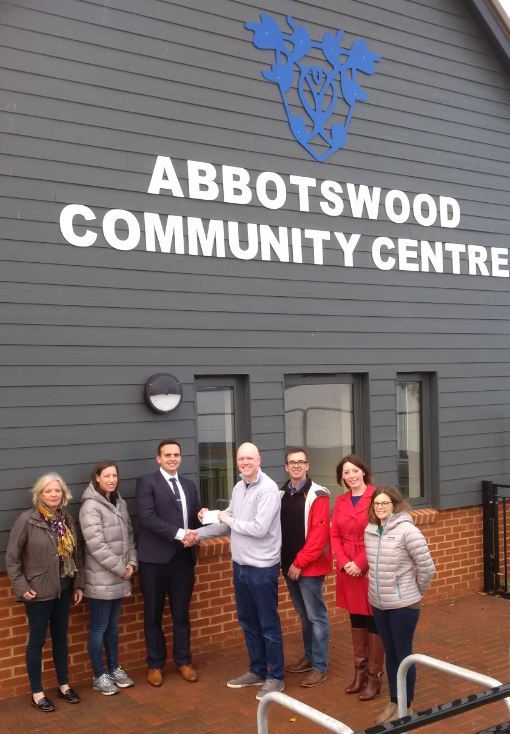 Abbotswood Community Centre gets refurbishment boost
A significant donation has been made towards equipping Abbotswood Community Centre.
The Westerleigh Group have donated £5,000 which will be used to purchase items such as furniture and equipment.
Richard Evans, Managing Director of Westerleigh Group said: " With the opening of the new crematorium in Romsey, we are proud of the important role that we now play as part of the Romsey community and are delighted to make this contribution.
We are grateful for the confidence placed in our company by Test Valley Councillors and are delighted to finally be ready to repay their faith and look after the bereaved in this area."
Community and Leisure Portfolio Holder, Councillor Tony Ward said: " We are most grateful for this kind donation which will make a big difference to the enjoyment and use of the community centre by local residents."
Romsey Extra Ward member, Councillor Alison Johnston said: "The kind donation from the Westerleigh Group of £5,000 is another step towards creating a centre that the residents of Abbotswood will really appreciate. There is a real community developing in Abbotswood and it is particularly encouraging to see that the owners of the new crematorium are willing to take a full role in the development of the community of not only Romsey but Southern Test Valley as well.
" As well as thanking Richard Evans and the Westerleigh Group, I would also like to acknowledge the wonderful efforts of the Trustees of the Community Centre. They have worked tirelessly with the Test Valley Community Engagement Officer, Marianne Piggin, to bring the opening of the Community Centre within the near future."
Westerleigh is the leading developer and operator of crematoria and cemeteries in the UK caring for over 30,000 funerals a year.http://www.westerleighgroup.co.uk/