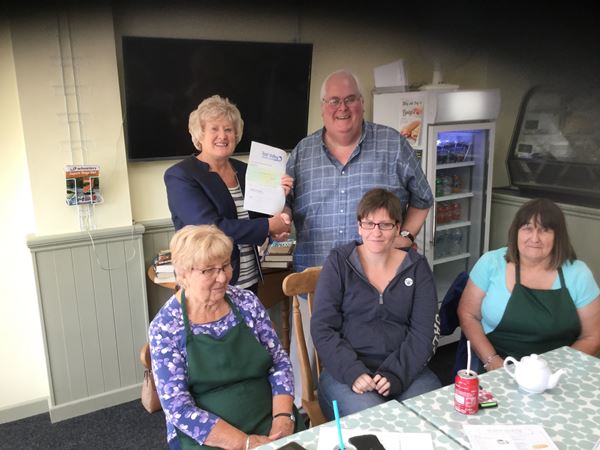 Boost for Beadle's
The owner of a unique new community tea and coffee house in North Baddesley has been granted a £750 Business Incentive Grant from Test Valley Borough Council.
Paul Pimley, of Beadle's Tea Room, has converted a long-standing vacant unit at 19 Fleming Avenue, North Baddesley, into a vibrant, community facility that invites people to take a rest and enjoy some light refreshments. Customers who pop in on a Tuesday afternoon will be treated to a song or two from Beadles Balladeers, a loyal band of singers from diverse backgrounds including barbershop, community and rock choirs.
North Baddesley ward member, Councillor Celia Dowden, who presented the cheque, said: "I am delighted to be able to present this Business Incentive Grant to Paul. This not-for-profit community cafe in North Baddesley is providing not just a much needed facility, but a meeting place for residents."
Paul added: "I'd like to thank Councillor Dowden, Test Valley Borough Council and all our volunteers for their support. I am committed to growing Beadle's into a community facility that all can enjoy. We are already starting to see many regulars pop in and out during the day and we have already donated over £500 to good causes in the local village."
The Council's Business Incentive Grants are available to anyone looking to set up their own business in Test Valley. Anyone who successfully applies for the grant will receive a grant of £750 if their business is still going strong six months later.

For more information about the Council's Business Incentive Grants, visit www.testvalley.gov.uk.