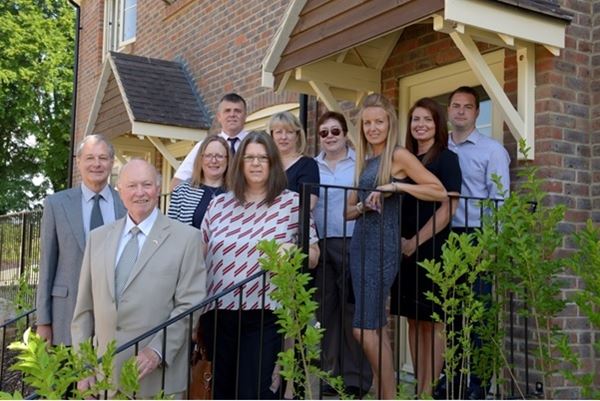 The Landings helps people settle in Over Wallop
The picturesque village of Over Wallop is home to 35 new dwellings including 14 affordable homes that give local people the opportunity to live in an area that they know.
The Landings is made up of one, two, three and four-bedroom homes. Among the affordable homes are four spacious bungalows built to Life Time Home standard which allow more flexibility in order to meet the future requirements of an ageing population.
Housing and Environmental Health Portfolio Holder, Councillor Phil Bundy, said: "The Landings is a fantastic development that helps local people to get on the property ladder – something that is notoriously difficult in the current economic climate. I am pleased to see that more young people are now able to settle in the areas that many of them have lived all their lives and are of course, able to stay in Test Valley. The additional Life Time Homes allow older and vulnerable residents to live here for longer, which is great news for the borough."
The affordable homes are available for shared ownership on a part-rent, part-buy basis through Help to Buy South; through Test Valley Borough Council's housing register, Hampshire Home Choice; or Registered Housing Providers who own the affordable dwellings.
Julie Porter, Head of Development at VIVID added: "We were extremely pleased to work with Bargate Homes and Test Valley Borough Council to provide much needed affordable housing in this rural location. We're working hard to develop a range of projects, small and large, to help tackle the housing crisis. As a strong regional housing association with a clearly defined social purpose to build more homes and make them affordable for everyone, we plan to build at least 1,200 new homes a year across all tenures, making us a major builder of new homes amongst UK housing associations."
The National Housing Federation recently announced that it had found strong support for new housing in rural England. Almost two-thirds (65%) of residents living in rural areas supported new homes in their area if they are affordable to local people on average incomes.
The Landings was developed in partnership between Test Valley Borough Council, VIVID and Bargate Homes. Anyone who would like more information about purchasing a shared ownership home should contact Help to Buy South. For information about affordable rented housing, contact Hampshire Home Choice.