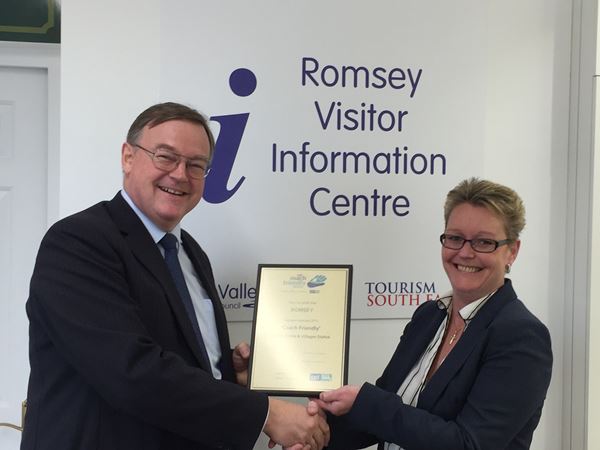 Romsey is Hampshire's first coach-friendly town
Romsey has been declared Hampshire's first coach-friendly town. The town has been accredited with the Confederation of Passenger Transport (CPT) Coach Friendly Town Status.
This comes hot on the heels of Romsey's Visitor Information Centre (VIC) winning the Gold Award for best visitor information centre in southern England and being entered into the national Visit England awards. The VIC caters for 55,000 visitors each year and supports tourism businesses across Test Valley.
The coach-friendly accolade is the culmination of several years' work and is a great achievement for the town.
In 2016 the Council, in response to feedback from Romsey Future's Tourism Group, invested in four new coach parking bays at Romsey Rapids.
Over the past 12 months, the Council has worked closely with the CPT to install a comprehensive set of new traffic signs guiding coach drivers into Romsey from all four points of the compass to a new drop-off point in the heart of the town centre at Broadwater Road and onwards to the parking bays at the Rapids.
Economic Development and Tourism Portfolio Holder, Councillor David Drew, said: "I am absolutely delighted that Romsey have been awarded this status, especially as it is the first in Hampshire. It is a terrific accolade for the tourism group within Romsey Future and is yet another example of partnership working both within the Council and with other industry stakeholders.
The Council is keen to start working with the CPT to encourage more coach visits to Romsey. Last year VIC staff welcomed 28 coaches and this number is set to rise. If the tour companies let us know in advance, the VIC staff will "meet and greet" visitors with local information leaflets, including the Test Valley Visitor Guide, and give them a special Romsey welcome!
CPT's Regional Manager, Karen Tiley, commented: "CPT is delighted to present Romsey with CPT's 'Coach Friendly towns, cities and villages' status. The town has demonstrated a clear understanding of the requirements of coaches and their passengers, while also providing first-class facilities, access and information for drivers.
"The recently introduced 'meet and greet' scheme, in addition to the comprehensive signage and centrally located set-down and pick-up points, provides visitors with a true coach friendly welcome to the town.
"CPT would like to congratulate them on their efforts to become Hampshire's first holder of the Coach Friendly status."