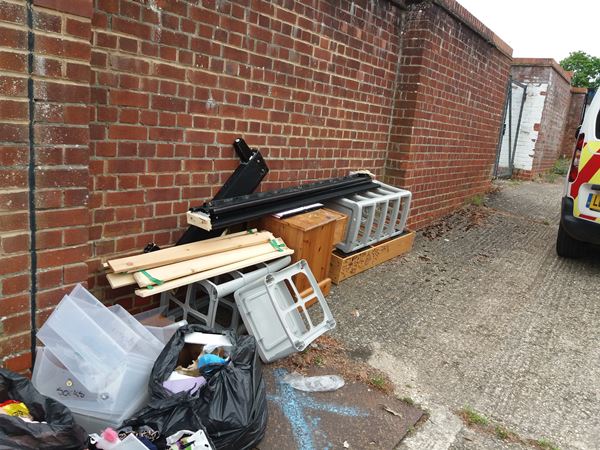 Council secures prosecution after family fly-tipping affair
Test Valley Borough Council has successfully prosecuted a father and daughter who fly-tipped furniture, food waste, toys and school library books at Walworth Enterprise Centre.
Alan and Stacey Judge, of Andover, have been made to pay £2,300 after the unlawful deposit of waste at the back of a unit in the Enterprise Centre in Duke Close, Andover, on June 4 this year.
The waste included wooden furniture, a bed frame, headboard and a plastic set of drawers. Six black sacks were also dumped, which included school library books, children's toys and food waste.
Alan Judge was fined £465 and ordered to pay a £46 victim surcharge at Basingstoke Magistrates' Court on December 7. His daughter Stacey was fined £400 and ordered to pay a £40 victim surcharge. They both had to pay an additional £711.91 in court and legal fees, bringing their total costs to £2,374.
Environmental portfolio holder, councillor Graham Stallard, said: "This is another message to those who think they can get away with dumping waste in our borough. It doesn't matter where you are in Test Valley, the materials you are leaving, or how much you choose to dump; fly-tipping is a crime that we absolutely will not stand for.
"I hope this latest prosecution stands as a warning to those who think they can outsmart us. Once again, if there is sufficient evidence to prosecute, you can be assured that we will see you in court."
Any incidents of fly-tipping can be reported to the council by calling 01264 368000 or online via www.testvalley.gov.uk/mytestvalley