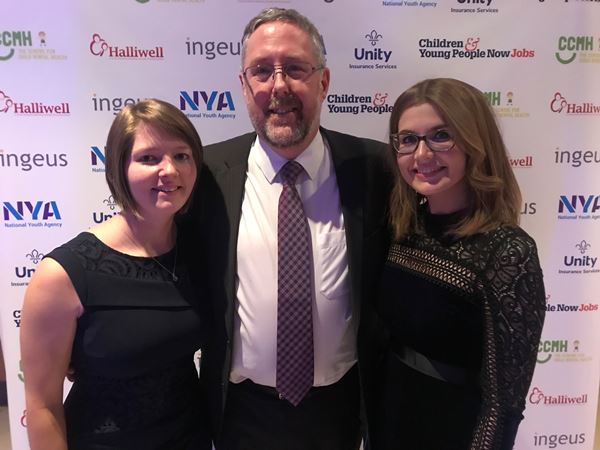 National recognition for Test Valley intervention project
The Test Valley Partnership is celebrating after it was recognised nationally in a children and young people awards scheme.
Test Valley Partnership's 'Intervention, Communication, Education' (ICE) project was a finalist in the 'Youth Justice' category of the prestigious 'Children and Young People Now' Awards (CYPN) 2018.
'ICE' is an early-intervention partnership project aimed at young people who may be going through a difficult period of their life and at risk of making choices that could negatively impact their futures.
Children & Young People Now is a magazine and website resource covering policy issues and best practice for all professionals working to improve the life chances of children, young people and families in the United Kingdom. They then organise the awards to recognise this.
Test Valley Borough Council is partnered with Hampshire Constabulary, Hampshire Fire and Rescue Service, Army and Youth Crime Prevention Team for the project, which is funded by the Hampshire and Isle of Wight Police and Crime Commissioner.
Through workshops, youngsters are educated on actions and consequences relating to fire safety, hate crimes, drugs and anti-social behaviour among other topics. 'ICE' also provides sessions that promote good citizenship, team building and improved school attendance, plus the opportunity to complete the Duke of Cornwall's Community Award.
Test Valley Borough Council's community and leisure portfolio holder, councillor Tony Ward said: "It is always fantastic to know that the partnership's hard work is being noticed, along with the positive benefits it provides for young people in our community. The progress we continue to make is only possible because of the teamwork and commitment of the partners."
Hampshire Constabulary chief inspector, Kory Thorne, said: "To have the 'ICE' project shortlisted as a finalist in the Children and Young People Now Awards 2018 reflects the hard work that is carried out by members of the Test Valley Partnership.
"It was an honour to attend the awards ceremony with colleagues from Test Valley Borough Council. It was humbling to see so many projects from around the country being delivered to try to improve the lives of children."
At the awards ceremony in London on November 21, the partnership narrowly missed out on the top prize, which was awarded to the Howard League of Penal Reform.
Ravi Chandiramani, editor-in-chief of Children and Young People Now magazine added: "This was the thirteenth year of these awards, and the volume and quality of entries from across the sector was as strong as ever. Our esteemed expert judges and our panel of young judges looked for work that was inspiring and innovative, and that demonstrated evidence of having a clear impact on the lives of children, young people and families. Well done to all of our finalists."
In 2016, 'ICE' also received national recognition as a finalist in the Resolve National ASB Awards in the 'Best Project' category.
PCC Michael Lane said: "Providing effective early support to children and young people who are vulnerable or at risk of making the wrong choices can help them to realise their full potential. It explains why supporting programmes, such as 'ICE', is a priority for me. Building trust is key, so young people have the confidence to seek the help they need. I am delighted to join in celebrating that this initiative has been recognised for the positive difference it is making to the lives of young people in Test Valley."