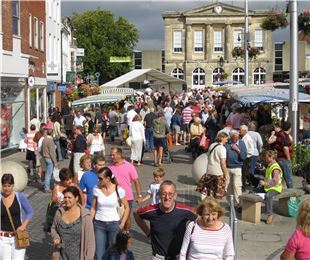 Residents and businesses called upon to shape Andover town centre redevelopment
Local residents and businesses are being urged to share their views about Andover as part of a major consultation to shape the future of the town centre.
Nationally renowned urban design experts, HemingwayDesign and New Masterplanning, have today launched an initial survey asking for people's feedback on how, when and why they use and want to use the town centre.
Appointed by Test Valley Borough Council, HemingwayDesign and New Masterplanning will draw together feedback from local residents and businesses, feasibility studies and other key statistics to inform a masterplan for the town. This will then act as a blueprint to completely redevelop the area.
Leader of Test Valley Borough Council, Councillor Phil North, said: "Rejuvenating our town centres is the council's number one priority and your views, via this survey, will help inform our ambitious plans for the redevelopment, creating a place where people want to visit, live and spend time. We all know town centres are changing with a greater focus on leisure and living as well as retail, and in this context we are keen to understand what would attract more people to Andover.
"This certainly won't be the only chance for people to give us their feedback, rather it marks the start of a comprehensive consultation process and I would urge people to get involved as much as possible along the way.
"We have in front of us a once in a generation opportunity to shape the town and we must do everything we can to grab it with both hands."
Wayne Hemingway, HemingwayDesign, added: "Town centre woes never seems to be out of the national news. But not all town centres are suffering as much as the media make out. Between us all we are capable of coming up with ideas and plans that will help Andover town centre to be a vibrant focal point of communities for generations to come. You don't need to be a designer to have ideas , we want and need to hear your ideas "
Lora White, New Masterplanning, said: "NEW masterplanning are really excited about the opportunity to work in Andover and to start enhancing the town centre through the masterplanning process. The key to delivering a successful strategy will be ensuring that we really understand Andover through the experiences of the people who use it on a daily basis. We will be looking to hold a number of public events over the coming months where we will need your local knowledge and input but this online survey is a really important opportunity for people to give us their first thoughts."
The masterplan process will take around 12 months to complete and will involve significant consultation with the public to decide what the future of Andover will look like. Once the masterplan is in place, the council is likely to appoint a developer partner to start delivering changes in the town.
The survey can be accessed at www.thinkandovertowncentre.co.uk