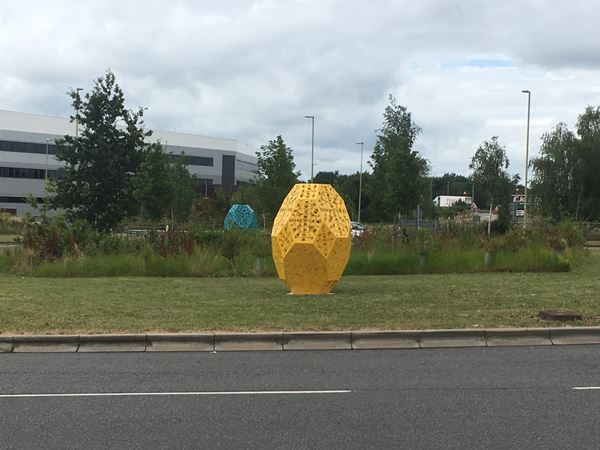 New public art unveiled at Adanac Park, Nursling
On Thursday, 18 July councillor Phil Bundy officiated at the unveiling of two striking new sculptures on the Brownhill Roundabout at Adanac Park.
The artwork, 'The Nursling Murmurings' has been developed by artist Martin Heron and creates a striking new feature to mark the entrance to Adanac Park. The art installations were made possible through a Section 106 planning agreement with the Lidl distribution centre at the Park, whereby the developer releases money for public art. The project has also involved local schools and businesses during its development.
The artist worked with The Cedar School, Nursling School, Rownhams School and Oasis Lordshill Academy running workshops on the themes of community, the mounds that are prominent in the local archaeology and mapping the area. In addition, he worked with the staff at Ordnance Survey whose office is situated at the Park. The themes and forms that emerged from the workshops were handprints and the murmurations of birds. Martin took this imagery and created the forms, using lasercut powdered steel to create the final works of art.
Councillor Bundy said: "public art enhances the environment and brings together both businesses and local communities, giving a sense of ownership and investment in the local area. I was delighted to be at the unveiling and to meet both the artist and the local school children who literally had a hand in the project!"
The unveiling was held at the Walnut Tree Farm Inn, close to the roundabout. School pupils involved in the project from the Cedar School, Rownhams School and Nursling School attended to watch councillor Bundy cut the ribbon and see a display of work and ideas that had contributed to the project.