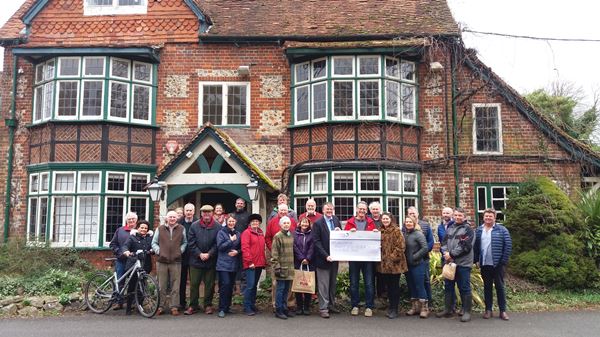 Community ploughs ahead with council grant
A local community pub campaign has benefited from a £960 Councillor Community Grant from Test Valley Borough Council.
Plough Ahead, a group of Longparish residents, came together with the aim of purchasing and running The Plough pub.
The residents formed Plough Ahead last summer and have been given a cash boost by the council to help the campaign with the next stage in the project. The ultimate goal is to ensure the pub, and possibly cafe, is open and accessible for the whole community to enjoy.
The funding from the council has enabled the group to speak to specialist consultants to help assess the structure of the building, evaluate the project's viability and sustainability and create a robust business plan.
Andy Jolliffe, from the Plough Ahead group, said: "We are so grateful to Test Valley Borough Council and our ward member, councillor David Drew, not only for the funding but also for the moral support we have received.
"The encouragement we have had from other residents has been a huge boost and together with this grant, we can now push on with our campaign to bring this much loved and locally renowned pub back to the people of Longparish and the wider community."
Ward member councillor David Drew, said: "I really believe in this project and it will be of huge benefit to the village and broader community. I'm very pleased that we have been able to support Plough Ahead financially and I can't wait to see the end product."