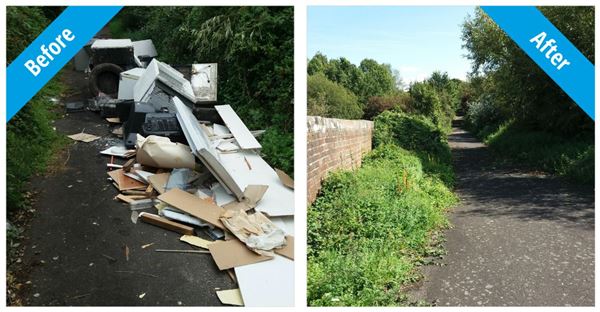 Check your waste carrier is licensed!
Test Valley Borough Council officers have cleared a pathway in Nursling after it was used as a dumping ground for a large fly-tip.
The footpath on Dairy Lane, Nursling, was left unusable after fridges, televisions and a washing machine were found discarded. Having spent hours clearing and investigating the fly-tip, the council is reminding residents to check that their waste carrier is licensed.
As well as the larger items, pieces of wood and cardboard were strewn across the path.
Councillor Johnston said: "Nobody should have to clear up and deal with the sheer mess that these people make. We are more than happy to help advise people on what they can recycle and take to their Household Waste Recycling Centre.
"There is absolutely no excuse. What we need to make clear is that it is imperative for residents to check and double check that their waste carrier is licensed when they are employing someone to take rubbish away. It is quite often those who operate without a licence who end up illegally disposing of their waste in this way.
"That is why your waste is your responsibility, so by doing the necessary checks and getting a waste transfer note, you could save yourself a day in court and a criminal record."
The council's environmental service has prosecuted 17 people since the turn of the year for fly-tipping, licence and littering offences. As well as seeking to deter through prosecution, the authority also takes part in roadshows, visits schools and community events to promote responsible recycling and waste removal.
Anyone who would like advice on what can be recycled or how they can remove of their waste can do so by contacting the council's environmental service via 01264 368000. You can also check your waste carrier is licensed here: www.testvalley.gov.uk/wasteandrecycling/household-waste-duty-care