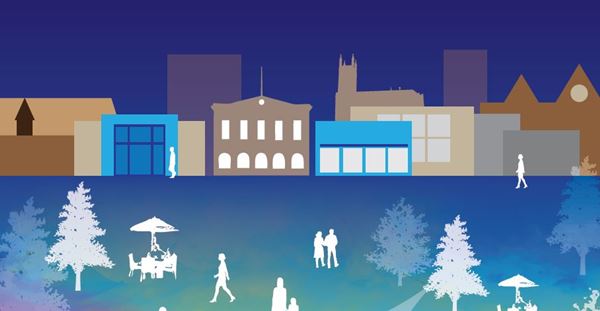 Community comes together to talk about town centre transformation
Community and business representatives from across Andover came together at The Lights on Monday night to mark the start of a series of discussions around the future of Andover town centre.
Organised by nationally renowned urban design experts, Hemingway Design and NEW Masterplanning in conjunction with Test Valley Borough Council, the initial evening session was the first opportunity for people to begin to share their ideas about how the town could be completely redeveloped to make it fit for the future.
HemingwayDesign and NEW Masterplanning will be running and publicising further events with town centre businesses and the public over the coming months.
They also published a survey back in August asking for people's feedback on how, when and why they use and want to use the town centre. Residents have until Tuesday 1 October to complete the survey which is available at www.thinkandovertowncentre.co.uk
Leader of Test Valley Borough Council, Councillor Phil North, said: "Since I became leader in 2017, I have been really clear that rejuvenating our town centres is our top priority. We have never undertaken a project of this scale in Test Valley before, so this is a really exciting time for all involved – and it was great to see people contribute their views to the masterplan.
"I would strongly urge anyone who has yet to complete the initial town centre survey to please spare five minutes to do so, as I am really keen to hear from as many people as possible.
"Town centres are fast becoming more of a place for leisure and living as well as retail, although I think retail is still a really important part of the mix. We therefore need to create a place where people will want to visit, work, live and spend time with their family, friends and colleagues. We had some really valuable discussions about how we could achieve this and it was great to see people really embracing this once in a generation opportunity to completely redevelop the town. The unparalleled expertise of HemingwayDesign and NEW Masterplanning combined with the local knowledge and aspirations of our residents and businesses will enable us to create a truly innovative plan for the town centre."
Wayne Hemingway from HemingwayDesign, added: "As a group we discussed the live results of the public survey and it is clear that the attendees of the event and the wider Andover community have some really insightful and exciting ideas to help revitalise and re-energise Andover town centre. The survey will remain open until 1 October, so please visit www.thinkandovertowncentre.co.uk to have your say if you haven't done so already. From there we will rationalise the ideas put forward and come back to you all with our thinking for further discussion."
Lora White, project manager at New Masterplanning, said: "We would like to thank everyone who attended Monday night. It was a fantastic opportunity to meet with members of the local community to listen, learn and discuss ideas. This exercise along with the emerging survey results and meetings and discussions we've had with key local businesses has so far given us a great insight into Andover.
"Our next step will be to take these ideas forward and to start developing and testing options for the spatial framework. We look forward to sharing and discussing these options with the public in December. Please keep an eye out for these dates and venues which we will be announcing soon."
The masterplan process will involve significant consultation with the public to decide what the future of Andover should look like. Once the masterplan is in place, the council is likely to appoint a developer partner to start delivering changes in the town.