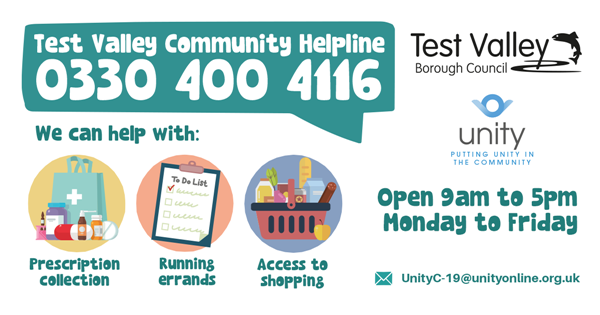 £10k boost for charity recruiting Covid heroes
Test Valley Borough Council has granted a £10k boost to Andover-based charity, Unity, to support their response to Covid-19 and recruit an army of volunteers to staff the local Covid vaccination sites.
The authority has been working with Unity since March to help coordinate the borough-wide effort to assist those self-isolating.
The money will enable Unity to increase their capacity so they can continue running the Test Valley Community Helpline, which they set up with TVBC at the start of the first nationwide lockdown, while also focusing on signing up volunteer 'Covid heroes' who will be based at the new vaccination sites at The Lights in Andover and Crosfield Hall in Romsey. The volunteers will support the medical professionals administering the vaccinations and ensure appointments run smoothly.
Leader of Test Valley Borough Council, councillor Phil North, said: "Unity have done an amazing job supporting TVBC to coordinate the local response to the pandemic and I would like to thank them for all their help and commitment. We have been working closely with the charity over the past few months to understand the financial implications of them providing that support. And as they are now leading on the volunteer recruitment to assist the medical professionals working in the vaccination centres, we have agreed to provide a total of £10,000 to help with the costs already incurred as well as those anticipated going forward.
"They have been absolutely pivotal to supporting local communities during the midst of the pandemic and are now taking on the crucial role of assisting the NHS with the rollout of the coronavirus vaccine, which will hopefully see life begin to return to normal next year."
Unity CEO, Terry Bishop, said: "I would like to say a big thank you to Test Valley Borough Council for their support throughout. The grant really will make the world of difference.
"I'd also like to thank all of the amazing volunteers and support groups who have been so willing to offer their help, which has made our lives so much easier. They have all been amazing."
The Test Valley Community Helpline is in place to assist residents who need support with food and prescription deliveries, befriending calls or other support and can be accessed on 0330 400 4116 or email UnityC-19@unityonline.org.uk