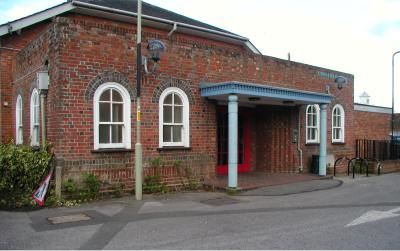 Crosfield Hall opens as vaccination site
Crosfield Hall in Romsey opened its doors today as a GP-led vaccination site to assist with the rollout of the national coronavirus vaccination programme.
Council chiefs have been working with NHS colleagues from the West Hampshire and North Hampshire Clinical Commissioning Groups to identify suitable sites in the borough, with Crosfield Hall and The Lights theatre in Andover both selected for the mammoth task.
The national vaccination programme is being coordinated by the NHS and central government with those most at risk set to receive the first doses of the breakthrough vaccine. The NHS will contact people in the priority groups when it is their turn to receive the vaccine. People should not contact their surgeries, the vaccination service is available strictly by invitation only.
Deputy leader of Test Valley Borough Council, councillor Nick Adams-King, said: "I am absolutely delighted that we have been able to offer our venues as vaccination sites and hope many thousands of people will pass through their doors over the coming months as we firm up our defences against this most dreadful virus. We apologise for any inconvenience this may cause to the users of these venues but as this is one of the greatest challenges our nation will face it is imperative that we work together to support the rollout of the vaccination programme."
Dr Ian Keith from the Romsey and North Baddesley Primary Care Network, said: " I am really pleased that in only a matter of a few weeks we have been able to organise the roll out of the vaccine for the Romsey and North Baddesley population, starting with the most elderly, as well as care home staff, starting this morning.
"This has been a huge effort on behalf of the managerial, administrative and clinical staff of Abbeywell, Alma road and North Baddesley surgeries, with many people giving up their weekends and evenings to bring it all together.
"I really hope that all take advantage of this opportunity to get on top of this virus, so we can return to some semblance of normal life. Please can people be patient as all surgeries try to deliver both the largest vaccination programme in history and continue to offer general practice from their usual sites."