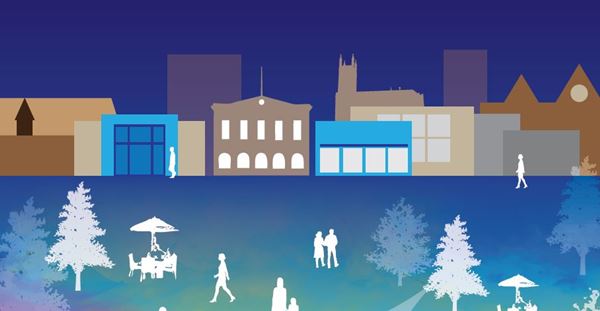 Andover residents help decide the future of the town
More than 1,100 people have helped to shape the future of Andover by sharing their feedback on the town's latest redevelopment proposals.
Nationally renowned urban design experts NEW masterplanning and HemingwayDesign presented the emerging visions for Andover to the public at a drop-in shop in Bridge Street last month before the plans were made available to view online.
The latest consultation comes after almost 3000 people completed an initial survey last year to understand what businesses and residents want to see happen in their town centre.
Lora White from NEW masterplannig said: "We've really enjoyed meeting, talking and listening to the residents and stakeholders of Andover over the past few months. Their passion, insight and feedback into this process has been invaluable. Now, we are looking forward to reading and analysing the feedback from the latest round of online surveys and working to ensure we deliver a strong vision for the future vibrancy of Andover town centre."
NEW masterplanning and HemingwayDesign are now reviewing the feedback from the latest survey and the stage one report and results will be released next month. The feedback will then inform a masterplan for the town, which will be shared with the public this Spring.
Once the masterplan for the town centre has been finalised, Test Valley Borough Council intend to appoint a development partner to deliver the scheme.
Leader of Test Valley Borough Council, Councillor Phil North said: "Since I became Leader of the Council, I have made the rejuvenation of our town centres our number one priority and the response from residents and local businesses has been fantastic. I'm absolutely delighted that so many people have taken the time to share their feedback and made the most of this once in a generation opportunity to shape our town. We now have an exciting few months ahead as we explore the feedback from the latest consultations and I look forward to revealing the final masterplan later this year."
More information about the project can be found at www.thinkandovertowncentre.co.uk