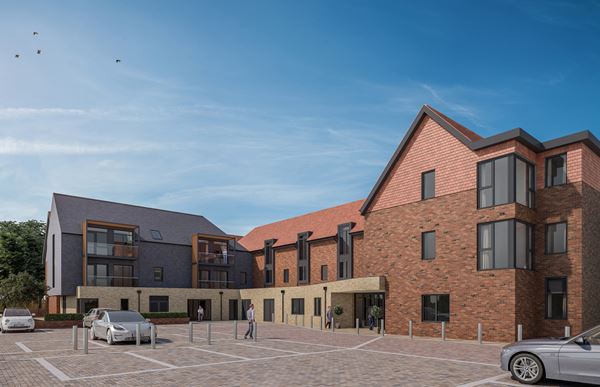 New extra care homes to open this summer
New homes for older people in Romsey are nearing completion following a partnership between Hampshire County Council (HCC), Test Valley Borough Council (TVBC) and Places for People.
Nightingale Lodge, based on the corner of Winchester Road and Cupernham Lane, is due to open this summer and offers extra care accommodation and 24-hour care and support on site. The development is aimed at people who have either existing care or support needs, or who anticipate needing support in the near future.
Thirty-seven of the apartments will be made available for affordable rent and 17 will be made available for purchase through a shared ownership scheme.
Now, those interested in the affordable rented apartments can make enquiries to Test Valley Borough Council (01264 368000), or find more information about extra care housing on the TVBC website. Applications should be made via Hampshire Home Choice – www.hampshirehomechoice.org.uk
Interested parties for the shared ownership apartments can also reserve the homes for sale at the development, by contacting Living Plus (part of Places for People) via: https://www.livingplus.co.uk/find-a-home/nightingale-lodge/
Extra Care housing provides an ideal solution for those who wish to remain living independently but need some form of care and support which can be tailored to suit their needs, and this development will ensure that residents in the south of the borough are able to have that choice made available to them.
In addition to the apartments, Nightingale Lodge offers a variety of facilities for use by both residents as well as the local community. These include a wellness suite, hair and beauty salon, a restaurant and landscaped gardens.
Housing and environmental health portfolio holder at Test Valley Borough Council, Phil Bundy, said: "We're delighted to be working with the development team on Nightingale Lodge. This ambitious project will bring a high standard of homes to Romsey and will help us establish a great community and ultimately be a great asset for the town. We are pleased that many of the apartments will be offered as affordable rented homes making them accessible to a wider range of customers."
Hampshire County Council's Executive Member for Adult Social Care and Health, Councillor Liz Fairhurst, said: "Nightingale Lodge will provide high quality new homes in Romsey for anyone who wants to remain independent, but may need extra help and the added reassurance of qualified staff on hand 24/7. This is all about offering people choices rather than a 'one size fits all' approach to care."
Andy Lomas of Places for People said: "We are delighted to be launching this fantastic new community for the people of Romsey. We are passionate about creating well-designed homes which are available through either sale or rent. Living Plus has a great track record of establishing similar communities across the country where we aim to create a balance of independent living, great amenities and social activities – but with added facilities that give peace of mind.
"Extra Care apartments are ideal for those who wish to remain independent, with their own front door and privacy, yet with the knowledge that they can be supported in their own home when necessary. Nightingale Lodge is about embracing life, and the new opportunities a development like this can offer are endless."
Nightingale Lodge is first Living Plus development in Romsey, which is being delivered with construction partners Morgan Sindall Later Living and Amiri.