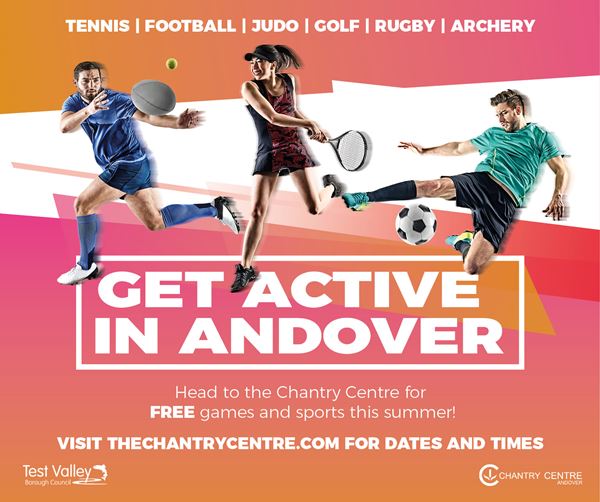 Get Active in Andover with free family games and sports at the Chantry Centre!
This summer The Chantry Centre will be running a series of free games and activities to encourage Andover to get active!
Taking inspiration from the Tokyo Olympics, which begin this month, Andover's indoor shopping centre will offer a wide range of free games and activities on select dates throughout July and August for all the family to enjoy.
Visitors can try their hand at archery, improve their golfing skills, perfect their tennis swing and see how good their rugby kick is.
The Chantry Centre will also be welcoming two local Andover-based sports clubs into the centre: Scorpion Judo will be demonstrating their talented martial arts skills on Saturday 24 July and inviting children to have a go at the Olympic sport with professional instructors for free. Andover New Street Youth Football Club will also be bringing the match to the centre on Saturday 31 July, giving shoppers the chance to watch local members of the club demonstrate their football skills and children can take part in a series of games and challenges.
Andover Leisure Centre, which is managed by Places Leisure in partnership with Test Valley Borough Council, will be coming into the centre between the 14 - 16 August and every Friday in August, families will be welcomed to take part in Four Fun Fridays craft workshops which will be based on sporting themes this year.
All activities are free and no booking is required. The full event programme, including dates and times for each activity, can be found at: www.thechantrycentre.com
Leader of Test Valley Borough Council, Councillor Phil North, said: "During the lockdown period a lot of us began exercising at home and enjoying daily walks to keep active. Now that we're coming out of the restrictions, and the Tokyo Olympic Games are about to begin, it's the perfect opportunity for everyone to be inspired to try out new types of exercise and enjoy keeping fit.
"This event will offer some really fun activities for families to enjoy for free during summer, when they head into Andover town centre to visit the shops, cafes and new riverside park. We hope it will encourage everyone to pick up a new hobby or learn a new skill.
The full event schedule can be found at thechantrycentre.com/active-in-andover. All events are free and will take place in the indoor garden area, situated next to Boswell's café seating. Covid secure measures will be in place and customers will be asked to use hand sanitiser before taking part in any activities.