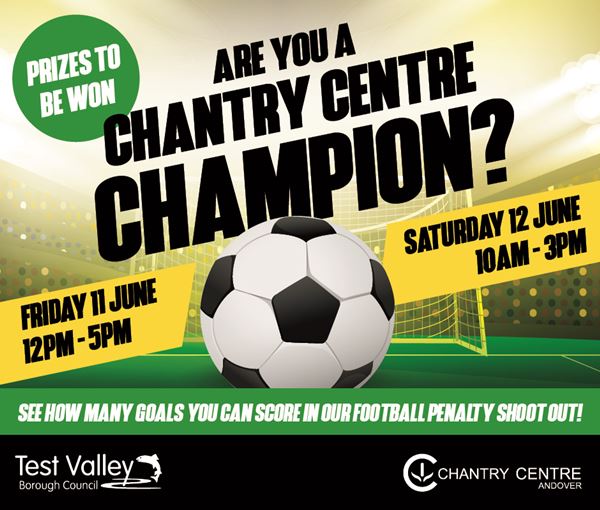 Are you a Chantry Centre Champion? Find out at our family football event!
To celebrate the launch of the Euros this month, the Chantry Centre will be hosting some football fun for families next weekend.
On Friday 11 and Saturday 12 June, all ages can head to the Chantry Centre to have a go at a penalty shootout game. Participants will have a set amount of time to try and score as many targets in a goal as they can for the chance to win some football-themed prizes. Top scorers will also be entered into a giveaway for the chance to win an England Football Shirt.
The event will be taking place on Friday 11 June 12pm – 5pm and Saturday 12 June 10am – 3pm at the indoor garden area next to Boswell's seating.
Leader of Test Valley Borough Council Phil North said: "As we move out of lockdown, it's exciting to be able to start hosting events for people in Andover once again. This event is a great way for football fans of all abilities to test their skills and hopefully walk away with a prize or two. Now that most of our retailers are back open in the centre and High Street, families will be able to browse the shops and enjoy a spot of lunch whilst visiting the town."
No booking is required for the football game, but social distancing measures will remain in place inside the Chantry Centre, to ensure all shoppers and those attending events and activities will be safe. One way routes have been installed, hand sanitiser is available throughout, carefully managed queuing systems are in place and all adults and children over the age of 11 are asked to wear a face covering when inside the centre and shops.
The football event will be taking place Friday 11 June 12pm – 5pm and Saturday 12 June 10am – 3pm. Find out more at www.thechantrycentre.com