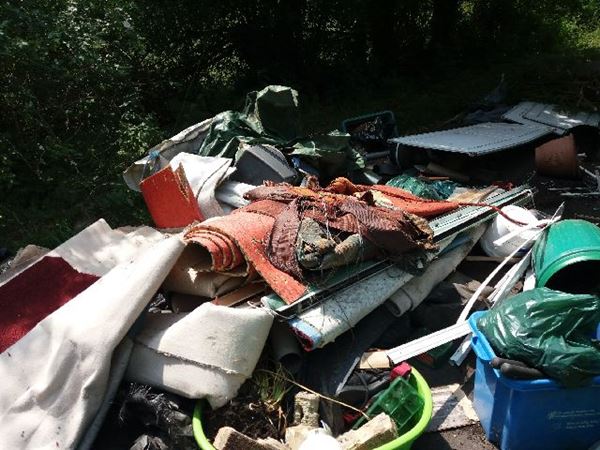 Eight months behind bars for fly-tipper
A Test Valley fly-tipper has been handed eight months in prison after committing multiple offences across Hampshire, including emptying a tipper truck while driving along Packridge Lane near North Baddesley.
Matthew Hunt, 32, of St Boniface Court, North Baddesley, admitted the offence that took place in June last year after an investigation by Test Valley Borough Council.
Mr Hunt was seen driving along Packridge Lane with a truck full of doors, plastic tubs and garden waste, when, while still moving, he decided to raise the back of the truck, tipping the waste all along the road.
Despite multiple requests from council officers, Mr Hunt never responded to requests for interview, leading to his day at Southampton Magistrates Court last week.
As well as committing offences in Test Valley, Mr Hunt was also sentenced for his part in two separate fly-tips in Bartley just two days after dumping the waste along Packridge Lane.
Then, on July 5, he threatened a member of the public with a crowbar while fly-tipping in Brook, also in the New Forest. He was also prosecuted for an offence in Southampton.
Mr Hunt was given an overall sentence of eight months behind bars for the offences by District Judge Calloway.
Environmental portfolio holder, councillor Alison Johnston, said: "The disregard that Mr Hunt has shown to his surroundings is, quite frankly, staggering. What is one of the most attractive and popular countryside in south east England has instead been treated like a personal dumping ground, and I'm very pleased that this has resulted in a custodial sentence.
"To empty a truck full of waste while still driving is absolutely incomprehensible and my thanks go to Hampshire Constabulary as well as the hard work of the neighbouring authorities in Southampton and the New Forest. This is a strong result and adds to our work cracking down on fly-tippers. The message is simple and easy to remember; we do not tolerate fly-tipping and will investigate every single case reported to us.
"If you don't want to spend Christmas in prison or face a significant fine, then do not fly-tip. If you have any questions about the disposing of waste, please do contact our teams so we can help. And remember, if you're using a waste carrier, ensure you check their licence through the Environment Agency website."