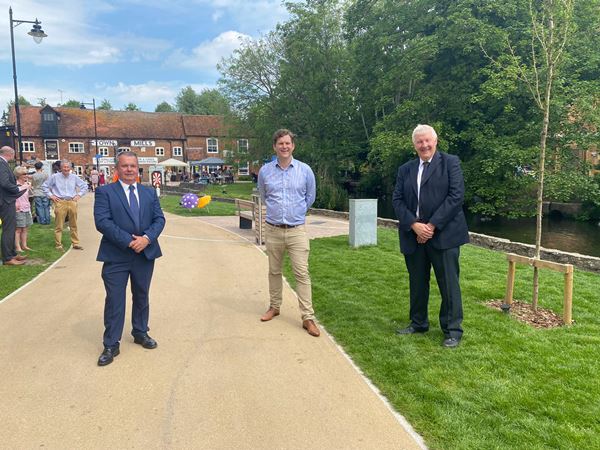 Town Mills buzzing as riverside park marks official 'opening'
The brand new riverside park at Town Mills was packed with families yesterday (2 June) after being transformed into a magical wonderland to mark the official 'opening' of the picturesque open space.
The enchanted gardens were full of colourful flowers, mushrooms and giant bugs, with people of all ages enjoying the free storytelling sessions and wonderful Playground of Illusions. And with delicious ice creams and scrumptious cakes to fuel the fun in the sunshine, there was plenty to entertain.
The new riverside development is a joint project between Test Valley Borough Council, Hampshire County Council and Andover Vision. In addition to Hampshire County Council's contribution of £969,000 and Test Valley Borough Council's contribution of £133,000, the scheme has received more than half a million pounds in funding from the Enterprise M3 Local Enterprise Partnership (LEP), bringing the total investment to £1.6 million.
Originally completed in March this year, the decision was made to postpone the official opening until the government eased the lockdown restrictions.
The park is nestled on the banks of the River Anton and offers a peaceful setting for those wishing to enjoy the space at their leisure and play, picnic and relax.
Speaking at the small opening ceremony, councillor Phil North, leader of Test Valley Borough Council, said: "This project has been a real collaboration between Test Valley, Hampshire County Council and the Local Enterprise Partnership – under the umbrella of the Andover Vision.
"Not only does it provide a new fantastic space for local residents to use and enjoy now, taking in the natural beauty of the river whilst having fun with family and friends. It's the first phase in the wider regeneration of Andover Town Centre. With huge plans on the horizon to extend the river corridor, to redevelop the Chantry Centre and create a wellbeing quarter.
"I hope the success here at Town Mills will also add momentum to wider conversations about how we can all come together – with the help of the private sector – to help deliver further phases.
"This is a really exciting time for Andover – and with the help of our partner organisations – I know we will be able to regenerate the town centre yet further – for the benefit of residents and businesses."