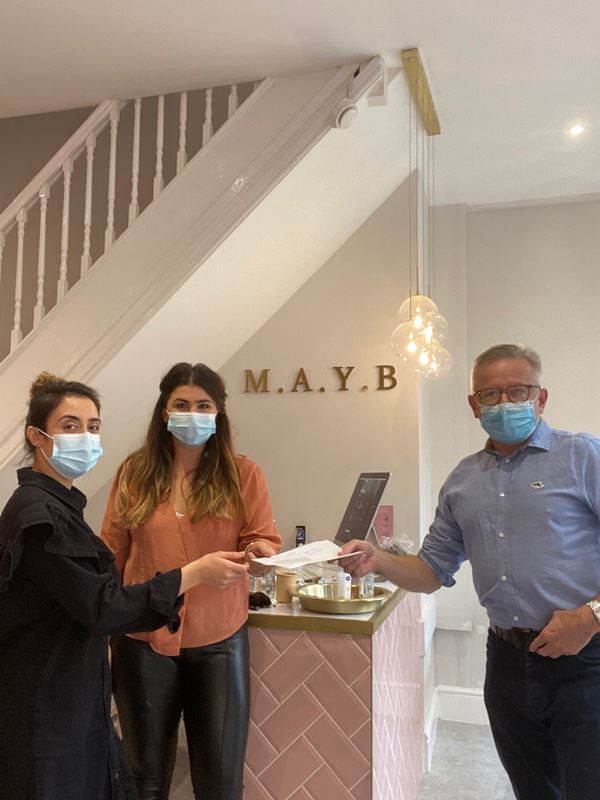 Friends open new hair salon
A new Test Valley hairstyling, makeup and aesthetics studio called 'M.A.Y.B' that opened this year on Junction Road has received a business incentive grant of £750.
Yasemin Lucas and her sister-in-law Meliha Akbas opened M.A.Y.B on Junction Road earlier this year. They have both been freelancers in the industry for over 10 years and decided to expand by opening their own premises.
The name 'M.A.Y.B' is a created from combining the initials of their maiden names.
Yasemin said "When the unit became available to rent it seemed the perfect opportunity for us to join forces and take the next step. We wanted to create a luxurious escape for women to come have a pamper and make over and it's a great space to hold trial runs for all the weddings I do. Meliha's clinic is tucked away upstairs for all the aesthetic and semi-permanent makeup treatments she offers. We are thrilled to be awarded a Business Incentive Grant from Test Valley Borough Council to help support our new business".
Millway ward councillor Christopher Ecclestone said: "The grant schemes are a great opportunity for those wishing to set up new businesses in Test Valley. I am delighted that Yasemin and Meliha have been successful in their grant application and wish them every success."
The council's £750 Business Incentive Grants are available to anyone looking to set up their own full-time business in Test Valley. Anyone who successfully applies for the grant will receive £750 if their business is still going strong six months later.
These funds have become available to the community as a consequence of the council's prudent investments, financial management and the use of the New Homes Bonus.