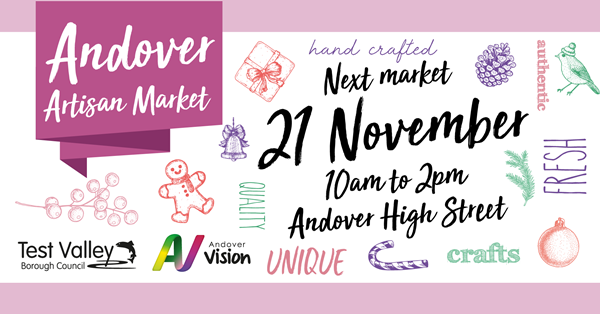 Get set for a day of Christmas shopping as Andover's Artisan Market returns on Sunday!
Andover's monthly artisan market will return on Sunday 21 November from 10am to 2pm, featuring a wide selection of artisan goods from local independent businesses.
The popular market has been running on a monthly basis since April this year, bringing a variety of different stalls to Andover's picturesque High Street.
At this month's market visitors can browse a range of unique products and Christmas gifts from luxury soaps and bathing products to children's clothes and toys. There will be a selection of works by local artists on sale and some delightful homeware and accessories.
Tasty treats and tipples will be available to pick up from local food stalls offering everything from specialist cheeses and home-made preserves to locally-produced cider, gin and seasonal fruit and veg.
The November artisan market will kick-start the Christmas shopping period, ahead of a full programme of Christmas markets and family events which will be taking place throughout Andover town centre and in the Chantry Centre over the coming weeks.
Full details of the 21 November artisan market can be found at: https://www.facebook.com/events/1334021343695575/