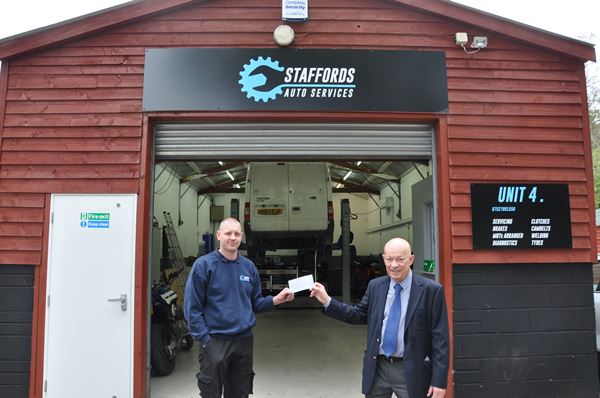 Test Valley Borough Council doesn't tyre of awarding business grants!
A man from North Baddesley has been awarded a £750 grant from Test Valley Borough Council after becoming a self-employed mechanic and opening a new premises.
Robert Stafford, of Staffords Auto Services, approached the council earlier this year outlining his new auto business and applied for a Business Incentive Grant. Operating from Wrens Farm, North Baddesley, Robert can offer his customers vehicle servicing, repairs and maintenance.
Robert said: "I've been wanting to start out on my own for a while now, but I was waiting for the right premises to pop up. Now I've opened up, I am really pleased with how it's going.
The grant scheme is great for new businesses like mine."
Chilworth, Nursling and Rownhams ward councillor Mike Maltby said: "Congratulations to Robert on the opening of his new business. I am delighted to present this grant and hear of the success of Robert's business so far - it is always great to hear that members of the community have been supporting a local business."
The council's business incentive grants are available to anyone looking to set up their own business in Test Valley. Anyone who successfully applies for the grant will receive £750 if their business is still going strong six months later.
These funds have become available to the community as a consequence of the council's prudent investments, financial management and the use of the New Homes Bonus.
For more information about the council's grant schemes, visit www.testvalley.gov.uk