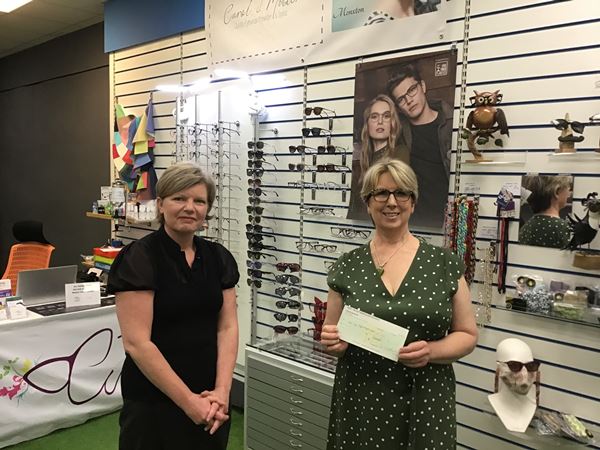 Optical Dispenser eyes successful future in new shared shop
Carol Miller's CJM Eyewear in Andover is the latest business to scoop a £250 Independent Retailer Grant from Test Valley Borough Council after taking the opportunity to launch her business in Andover BID's new shared shop in the Chantry Centre.
Carol set up CJM Eyewear in the premises after being furloughed from her current position managing a separate business, Solent Spectacles in Southampton where she works two days a week. The shared shop has given her the opportunity to try and grow her Andover business and hopes to acquire her own unit in the future.
The financial boost has helped Carol towards investing in an extensive range of spectacles, display units, drawers as well as lighting, a printer and till software.
She said: "The shared shop is a great launch pad for CJM Eyewear in a prime position in Andover town centre with lower overheads. It is a great boost to be awarded the Independent Retailer Grant from Test Valley Borough Council to help get up and running."
Local ward member, councillor Victoria Harber, who presented the cheque to Carol, said: "I wish Carol every success with her opticians business, the grants are a real opportunity to help with launching new businesses onto our high street and the shared shop offers an affordable solution."
The council's Independent Retailer Grant is available to anyone looking to set up their own full-time business in Test Valley, occupiers of the shared shop can apply at a reduced rate of £250 (it is usually £1200) in view of the in-kind contribution the council is making by not charging rent or a service charge. In May the council's cabinet approved a report granting occupiers of the shared shop eligibility for a one of £250 Independent Retailer Grant after the third month of occupancy.
These funds have become available to the community as a consequence of the council's prudent investments, financial management and the use of the New Homes Bonus.
For more information about the council's grant schemes, visit www.testvalley.gov.uk