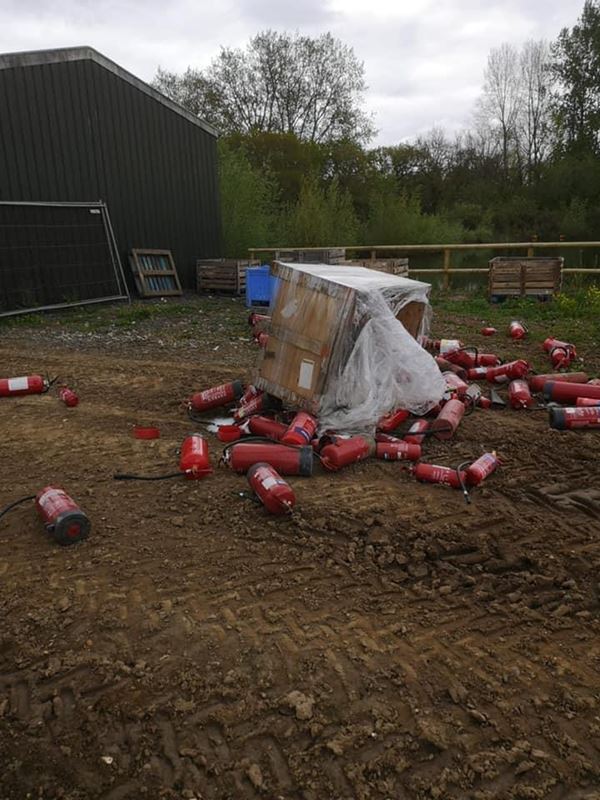 Double court success for TVBC
Test Valley Borough Council enjoyed another successful day in court last week as two cases resulted in fines of thousands of pounds for waste-related offences.
On Friday, at Southampton Magistrates Court, more than £6,000 was handed down to defendants related to fly-tips in Plaitford and Romsey following investigations by the borough council.
The first case saw Jack Fairbairn, of Wakely Road, Bournemouth, prosecuted after failing to respond to requests from TVBC to help in the course of a fly-tipping investigation.
In May 2021, the council received a number of reports regarding a fly-tip on Giles Lane, near Plaitford, of up to 200 fire extinguishers, horse manure and wood shavings. A vehicle had been seen loaded with fire extinguishers travelling up the road, before also being seen leaving a track, empty.
A report was also received showing an identical vehicle in the vicinity loaded with extinguishers. The registered keeper of the vehicle, Mr Fairbain, was then requested to attend an interview with TVBC, and despite claiming he had sold the vehicle prior to that date, failed to provide any evidence of this and then made no further contact with the council.
He was fined £2,500, ordered to pay £471.50 in costs, plus a £190 victim surcharge.
The same afternoon, 28-year-old Miron Constantin, of Chelveston Crescent, Southampton, was ordered to pay almost £4,000 for fly-tipping a mattress in a field in Coldharbour Lane near Romsey.
Mr Constantin's vehicle was pictured on one of the council's covert cameras arriving at the field on August 30 last year, before removing a mattress from the van and dragging it towards the field. Following initial queries, Mr Constantin admitted the offence in interview.
He was fined £3,333, ordered to pay £453.81 in costs, as well as a £190 victim surcharge.
Portfolio holder, councillor Nick Adams-King, said: "I'm very pleased with the two results which show the seriousness of these offences. What's more, our covert cameras once again prove their worth and they are placed up and down the borough. While we obviously don't disclose their locations, they are always on the move, so the risk of being caught on camera simply isn't worth it.
"My thanks once more go to the hard work of our environmental service team and legal service who work side by side in bringing these prosecutions forward. I'd also like to thank everyone who continues to report fly-tipping via the various means – we always act and seek to prosecute whenever enough evidence can be found. The My Council Services app, online, email or by phone can all be used to report this disgusting behaviour to us to act upon."