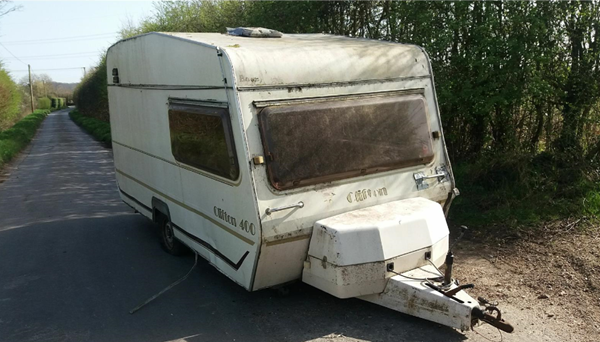 Dumped caravan leaves huge bill for two
Two men have been ordered to pay more than £6,000 in total after a caravan was unlawfully dumped in a rural Wellow lane.
Jason Stone and Jerry Mukoyi were found to be responsible after the vehicle was left along Hackleys Lane, Wellow, in summer last year.
Having received many reports of the dumped caravan, an investigation was launched by Test Valley Borough Council to find those responsible for the dumping, which was also close to St Margaret's Church. A resident had employed Mr Stone's business, 'Scrap my Caravan' and paid Mr Mukoyi to collect the caravan from an address in Chandler's Ford.
However, the vehicle towing the caravan was sighted at various locations on its journey before it was finally dumped, and was very similar to one belonging to Mr Stone's second business.
Despite multiple requests Mr Jason Stone failed to attend an interview with TVBC officers who were investigating the fly-tip. Mr Mukoyi attended, however he claimed that he had paid tree surgeons to get rid of the caravan. No evidence was presented for this.
At Southampton Magistrates Court, the pair were made to pay more than £6,000 for various waste offences.
Mr Stone, 40, of Lanfranc Close, Old Sarum, was fined £500, made to pay £572 in costs and a £50 victim surcharge for failing to comply with a S108 notice. Mr Mukoyi, of Gigant Street, was in control of the waste and was therefore fined £4,000, ordered to pay £722 in costs and a £190 victim surcharge. He was also disqualified from driving for three months.
Portfolio holder, councillor Nick Adams-King, said: "This is a significant fine for a very large fly-tip and I'm really pleased that the people responsible will now be forced to pay back for what they've done.
"Using a business to fly-tip in this case is frankly unbelievable, and shows the importance for residents in doing your part and noting who is collecting your waste, and ensuring they are correctly licensed to do so. Sadly, people such as this who abuse the system mean we cannot take everyone's word in good faith.
"My thanks as usual to the hard work of our environmental service staff and legal teams who do not tire of prosecuting those who think they can flout the law."