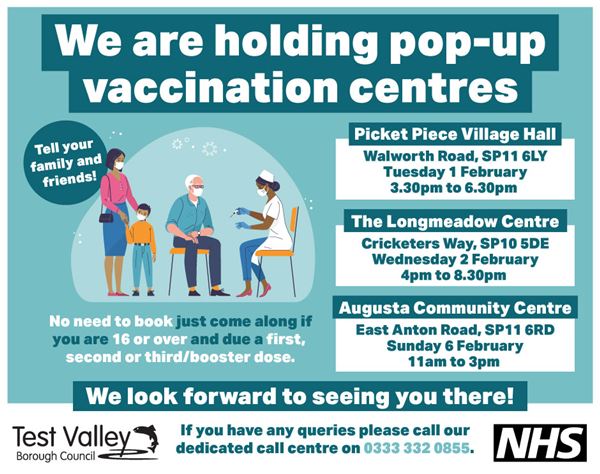 Teaming up to boost vaccination numbers in Andover
Test Valley Borough Council has teamed up with the NHS to help residents around Andover get their Covid-19 vaccinations this winter.
While the borough is above the national average for residents who have been double and triple jabbed, the NHS Hampshire, Southampton and Isle of Wight Clinical Commissioning Group (CCG) is putting on a number of pop-up clinics where anyone over the age of 16 can walk in to receive a vaccination.
This week, three clinics are taking place at Picket Piece Hall, Longmeadow Centre and Augusta Park Community Centre. This is the second week that pop-up clinics will be taking place after a successful start at previous clinics at King Arthur's Hall, St Paul's Church, and an initial pop-up at Longmeadow Centre.
Picket Piece Hall will host a clinic on Tuesday afternoon into the evening, while Longmeadow Centre will host its clinic on Wednesday. Augusta Park Community Centre will then hold the final pop-up vaccination centre this week on Sunday.
Council staff and members of the CCG have been out delivering leaflets to inform residents of the opportunity to grab a jab so close to their front door.
Dr Andrew Baring, clinical director of the Andover Primary Care Network, said: "Locally, we have seen a really fantastic effort from NHS staff and the amazing volunteers, and an equally fantastic response from the community, who have come forward in their droves to get vaccinated.
"I would really encourage anyone and everyone who is not fully vaccinated yet to take these chances to protect themselves, and others, if they possibly can. And if you are not quite sure about anything, you can always pop along to the clinic and talk to our staff about any questions you might have – they're happy to help."
Leader of Test Valley Borough Council, Phil North, added: "My considerable thanks go to the local NHS teams who are running and organising these clinics at various community locations across the town - and my thanks to colleagues and council officers who have joined me in delivering leaflets to get the message out to people. I would also echo the message from medical experts and the national government to get vaccinated to help protect our communities."
"You don't have to book, and whether it's for your first, second or booster dose, you can simply walk in and get vaccinated. I hope the clinics this week prove to be just as successful."