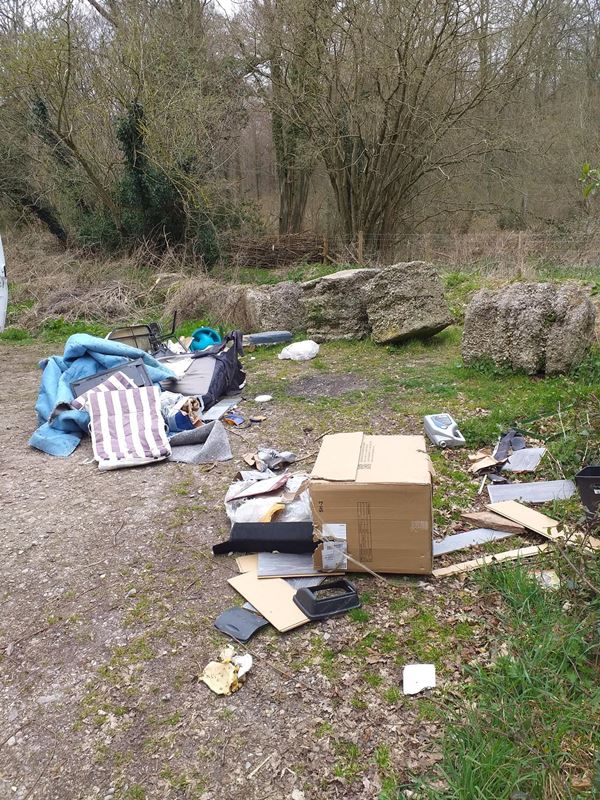 Man offering waste removal hit with fly-tipping fine
A man who was paid to remove a customer's waste has been hit with a fine and two nights in custody after he fly-tipped the rubbish at Green Drove, Upper Enham.
Scott Campbell, 34, from Winchester Road, Andover, appeared at Basingstoke magistrates' Court on Monday 27 June and pleaded guilty to dumping the items, which included anold carpet, child's scooter, ironing board, sun lounger, garden furniture, laminate wooden flooring, plastic bottle, cardboard box, cushions and other household waste.
Test Valley Borough Council received reports of the fly-tip on 7 April 2021, and when officers went to clear it up they found evidence that led to the owner. They contacted the owner who said that she had employed Campbell to remove the waste from her garden and paid him £30 to take it away. He had told her that he would take it to the tip but instead dumped it at Green Drove.
Having already spent two nights in custody, Campbell was ordered to pay a £320 fine reduced from £480 for an early guilty plea, £34 victim surcharge and £250 costs.
Portfolio holder for Environmental Services, Councillor Nick Adams-King, said: "To have pocketed £30 for disposing of someone's waste and then going on to fly-tip it is utterly disgusting. We will track down those who dump waste illegally and will do everything in our power to clamp down on this behaviour. It's sadly all too common and there is absolutely no excuse.
"I would urge anyone who comes across someone offering waste disposal services to check that they are licensed. In the world of social media we see so many adverts from different people offering a huge range of different services every single day, and it is vital that people check to make sure that they are legitimate."
Residents can check if a waste carrier is legally licensed by visiting the Environment Agency website at https://environment.data.gov.uk/public-register/view/search-waste-carriers-brokers