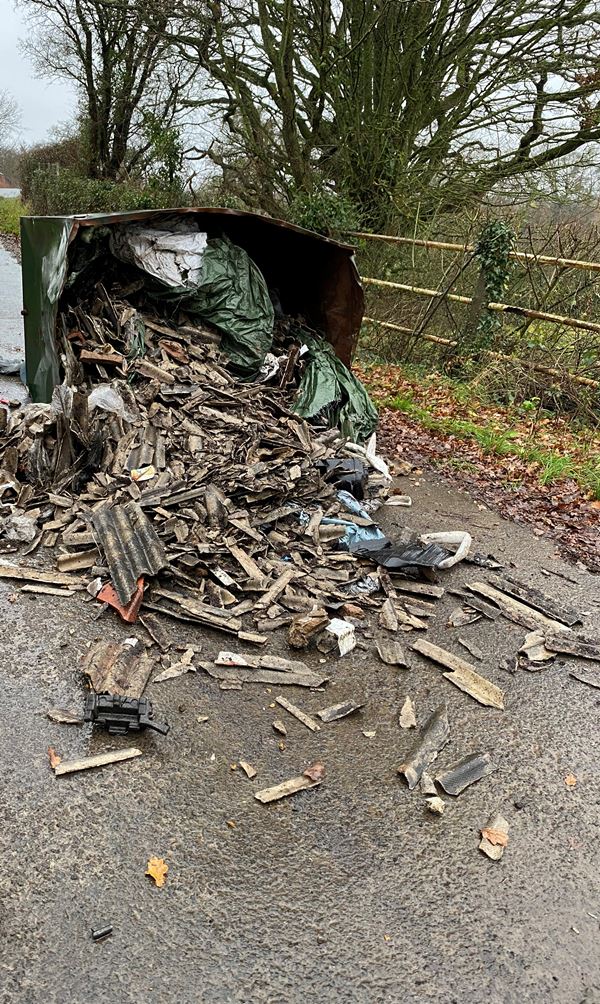 Prison time for serial fly-tipper
A man has been sentenced to 15 months in prison after fly-tipping asbestos in Romsey that caused a road to be closed off for two days.
Mitchell Cooper, of Hillyfields, Nursling, was given the sentence at Southampton Crown Court on Friday. As well as the time behind bars, he is now subject to a criminal behaviour order for the period of three years.
Just last year, Cooper was fined £20,000 for a series of fly-tips across Romsey and North Baddesley. That sentencing, which totalled more than £23,000 when costs were added on, took place in January 2021. But, just one month prior, Cooper had fly-tipped 3.5 tonnes of hazardous asbestos in the middle of Lee Drove in Romsey, which landed him at crown court on Friday.
The asbestos was dumped within a large green container, tipped off the back of the vehicle that Cooper was driving on 18 December 2020. As well as the hazardous material, car parts and wood were also found strewn across the road.
Cooper had difficulty tipping the truck enough to dump the container into the road, but eventually it was found deposited for around 100m along the road.
All of this was caught on one of the borough council's covert cameras, which are regularly moved to catch people committing waste-related offences.
Specialists then had to be brought in to clear the dangerous waste, closing the road off for two days in the process.
Portfolio holder, councillor Nick Adams-King, said: "I'm very pleased that Mr Cooper has been given prison time for his incredibly selfish offences. Fly-tipping is an abhorrent crime, but fly-tipping asbestos is particularly horrendous, given that it can be such a dangerous substance. This road had to be closed for two days to allow specialists to clear this up, and the way in which this was fly-tipped in the first place just reflects how little Mr Cooper regards anyone else.
"My thanks once again go to our officers who investigated this case and everyone who has played a part in ensuring Mr Cooper was sufficiently punished for these crimes. I'd hope that this also shows anyone else who believes fly-tipping is the easy way out, that it can land you in prison. It is not worth it, and we investigate every single incident that is reported to us."