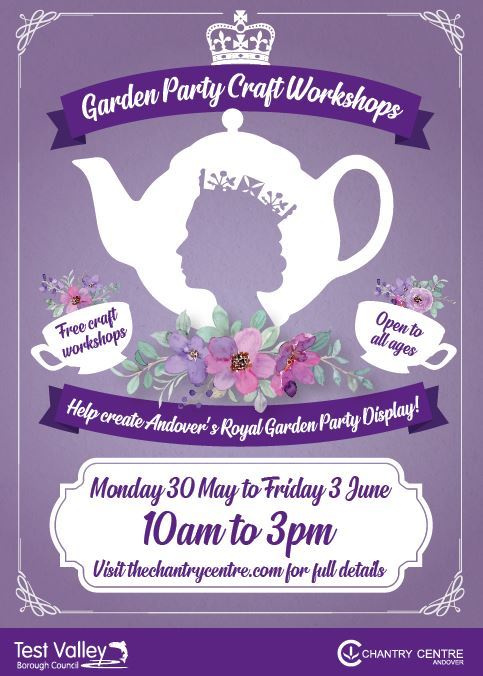 Dig out the china, polish the silver, Andover is making a tea party art display fit for the Queen!
Andover residents can take part in creating a very special art display inside the Chantry Centre next month in celebration of the Queen's Platinum Jubilee.
From Monday 30 May to Friday 3 June, visitors of all ages can head to the indoor garden area, next to Boswell's, to take part in a week of interactive workshops, helping to create a Royal Garden Tea Party display which will go on show Friday 3 June.
The event, which is being run by Test Valley Borough Council, will ensure each day offers a new workshop for participants from making bunting, to decorating crockery, constructing artificial food decorations and producing floral decor. Whilst adults and older children can enjoy contributing to the display, little ones will also have the chance to try a variety of different craft activities to take away with them.
The week will conclude with the full tea party display on show, where visitors can stop by on Friday 3 June to take a photo with the finished piece. The display will form part of a wider town centre art trail, which is being organised by InAndover and Chapel Arts Studios as part of the Jubilee celebrations. Free storytelling sessions will also be running in the garden area that day as well.
And as an extra-special royal reward, the team at Boswell's will be offering workshop participants a very special discount when they dine at the Andover café during the half term week. Families taking part in the Chantry Centre craft sessions on Monday 30 May to Friday 3 June will be offered a voucher for a free 'kids meal', when accompanied by an adult spending £5 or more at Boswell's.
Leader of Test Valley Borough Council, councillor Phil North, said: "We hope families will enjoy coming into the centre during the half term week to help create the tea party display. This is something that everyone can get involved with, whether you have just ten minutes or two hours to spare. I'm looking forward to seeing the final display and it will make a great addition to the town's Jubilee celebrations."
All of the craft workshop activities are free and no booking is required, everyone is welcome to come along and contribute to the display
To find out more visit thechantrycentre.com