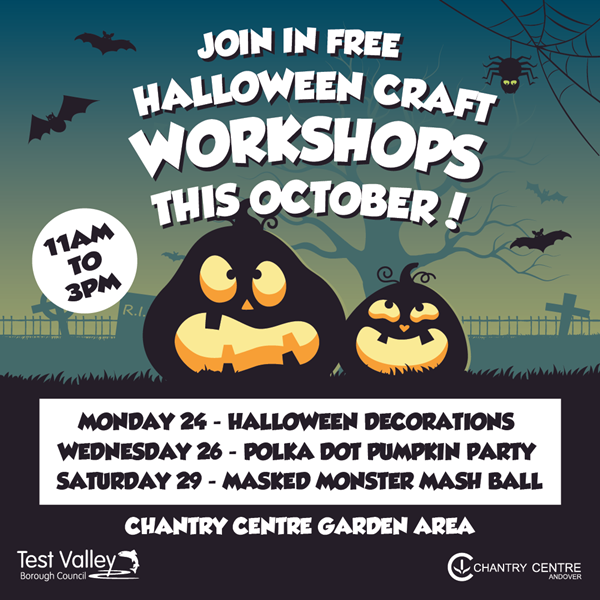 Frighteningly fun activities in store at The Chantry Centre this Halloween!
This Halloween the Chantry Centre will be hosting lots of free activities for families to enjoy.
Taking place throughout the half term week, Andover's indoor shopping centre will be hosting a series of events from creative craft workshops to a special spooky trail.
On Monday 24 October, 11am to 3pm, families can head to the indoor garden area, next to Boswell's, to create Halloween decorations using natural materials such as paper, sticks, string and wool.
A polka dot pumpkin art installation will pop up in the indoor garden on Wednesday 26 October, inviting families to come along and help decorate the pumpkins between 11am to 3pm.
On Saturday 29 October a special Masked Monster Mash Ball workshop will take place, 11am to 3pm, where families can come along to make their very own monster masks and pose for photos in the spooktacular haunted pumpkin patch!
Alongside the craft workshop, Saturday will also see the return of Andover's Halloween Trail. Test Valley Borough Council has teamed up with InAndover from Andover BID to run the trail across the town centre.
Entrants can pick up an entry form from a stand inside the Chantry Centre or the High Street and explore the town centre to find the clues, before returning their form to either stand to pick up a prize. Lots of town centre businesses will be getting involved in the trail by featuring clues on their shop windows and performing art students from Andover College will be taking part to deliver a few spooky surprises to participants along the way.
In addition to the activities, there will be live music in the High Street during the day on Saturday and plenty of shops and cafes to visit, making for a brilliant day out in Andover town centre.
Leader of Test Valley Borough Council, Councillor Phil North, said: "We're really looking forward to running a great mix of activities during the half term which families can come along to and take part in for free. I'm sure children will make the most of the different craft workshops available and let their creativity flow and will have a great time walking around the town taking part in the trail."
More information about the activities can be found at thechantrycentre.com.