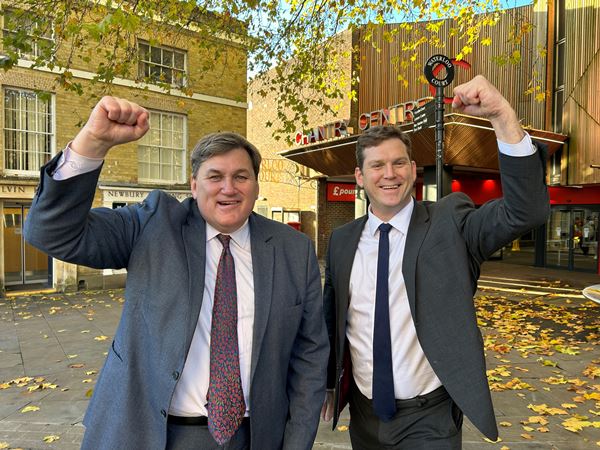 ANDOVER WINS BIG: £18.3 million Levelling Up Funds awarded to TVBC for new theatre, cultural hub and accelerated town centre redevelopment
Test Valley Borough Council (TVBC) has been awarded £18.3m from round three of the government's Levelling Up Fund (LUF), to build a multi-purpose theatre and cultural hub in the heart of the town. The new venue will replace The Lights with a larger theatre and space for cultural and creative activities.
The funding allocated to Andover means the council can accelerate the Masterplan to transform the town centre – bringing more businesses, shops and homes into the heart of Andover.
The town centre masterplan, to which more than 4,000 residents, businesses and stakeholders contributed, will see the creation of the theatre and cultural hub run alongside development of the Western Avenue Riverside Walk, to which £6.5M of council funds were allocated earlier this year, which included £1m in developer contributions from Hampshire County Council (HCC).
The new venue will be situated at the entrance of the Chantry Centre, opposite the Guildhall, and feature a brand-new theatre auditorium, as well as modern spaces to host a variety of events and creative classes that currently take place in The Lights, which it will replace. With Andover bus station and the Chantry Centre car park just a short walk away, it will have High Street shops, cafes and restaurants on the doorstep and with the green backdrop of Riverside Park.
The theatre and cultural hub will transform and revitalise the space, introducing an evening economy, offering more cultural activities and events, and supporting businesses in the town.
Confident in the strength and appeal of the bid, which was described by the government as "impressive", the council has been forging ahead with the Western Avenue scheme as part of its plan to rejuvenate the town. With both projects now in the pipeline, Andover residents can look forward to seeing some major transformations over the coming months and years.
Leader of the council, Councillor Phil North, said: "This is absolutely amazing news for Andover and will be transformational for our town – enabling us to accelerate the masterplan. It's the result of a lot of hard work in putting our bid together and making the case with central government. My huge thanks to our Member of Parliament, Kit Malthouse, who led the charge in Westminster. We wouldn't have got the money without his strong advocacy and unwavering desire to get it over the line.
"Our efforts in developing a cultural programme of events and progressing with other aspects of our town's redevelopment clearly shows that Andover is a place that is ready to move forward. We have a huge amount of experience in running a successful theatre with creative spaces and the new venue in the centre of town will become an invaluable asset for the local community."
Kit Malthouse MP said: "I was so enthusiastic about the council's brilliant masterplan that I was determined to do everything I could to get their bid over the line, and I'm so pleased that Andover has won this massive amount of money. It will make a huge difference to our town and is exactly the catalyst we need to start the much-needed reinvention of Andover town centre. Phil North and his team have shown exceptional leadership and vision, and they really deserve this win."