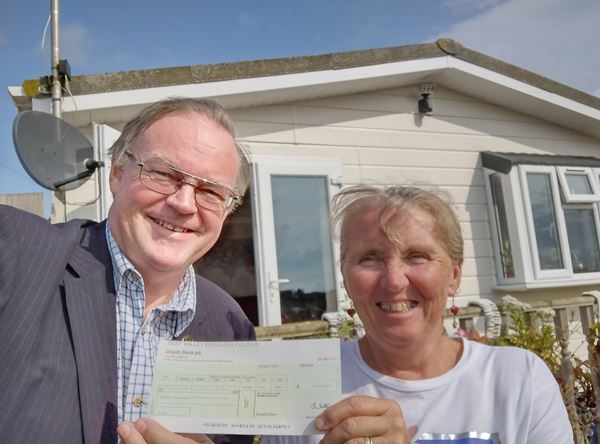 Start-up business awarded £750 grant
Local dog care business Boardwalk in Barton Stacey have been awarded a £750 Business Incentive Grant from Test Valley Borough Council.
Owner Debbie Sturgess set up Boardwalk, which offers dog walking, day care and home boarding, as a change of career after 15 years working as a teaching assistant. Debbie applied to the council for a Business Incentive Grant before starting her new business in December 2022. She has recently received her cheque as she's been up and running for more than 6 months, therefore meeting the criteria for the award.
Debbie said: "I am passionate about making sure dogs are cared for whilst owners are away on holiday or at work. The costs are always greater when you're setting up a business, which is why I applied for the council grant which really is a great help."
Debbie's cheque was presented by Harewood Ward Councillor David Drew who added: "One of our priorities as a council is developing a competitive local economy and the Business Incentive Grant exists to make a positive contribution to new businesses like Boardwalk, by helping towards their set up costs."
Business Incentive Grants are for new businesses located in Test Valley and must be applied for before you start your business. They will be paid once you have been up and running for 6 months. Anyone starting a business can find out more and download an application form at: Business Incentive Grant | Test Valley Borough Council.