Ganger Farm Sports Park
Ganger Farm Sports Pavilion will provide high quality spacious new facilities for the local community of Romsey. It is part of a wider development of 275 new homes at Ganger Farm, which includes 20% affordable housing.
The sports hub will provide state of the art facilities for matches, training, tournaments and other pitch events for local sports clubs, as well as private hire for the wider community.

The facility mix is listed below:
Exercise studio
Board room
Large Community room
Multiple changing room and showers
Kitchen
Bar
Balcony
2 x Outdoor play areas
An outdoor gym
1 x adult football pitch
2 x adult rugby pitches
3 x junior football pitches
1 x hockey artificial pitch
1 x Rugby artificial pitch
An Ecology trail.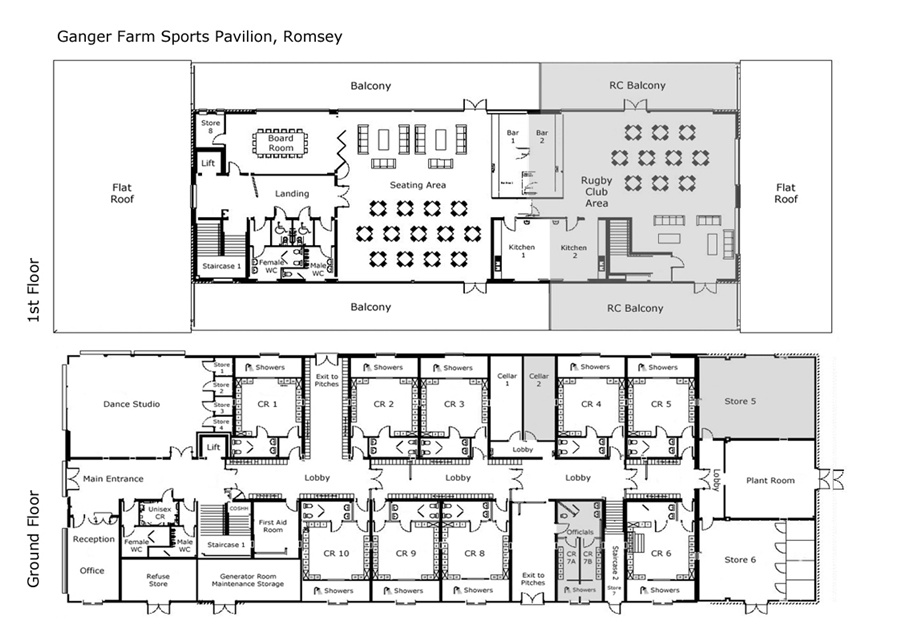 Planning permission was granted for the development scheme in 2016, after extensive public consultations. The planning permission was for the 'Erection of 275 dwellings with access, parking landscaping, open space, allotments and associated works, provision of sports facilities comprising of sports pitches (including artificial surfaced pitches with floodlighting and perimeter fencing and grass surfaced pitches, pavilion and parking)'. A legal agreement (or s106 agreement) secured the delivery of the sports and recreational infrastructure with the residential development.