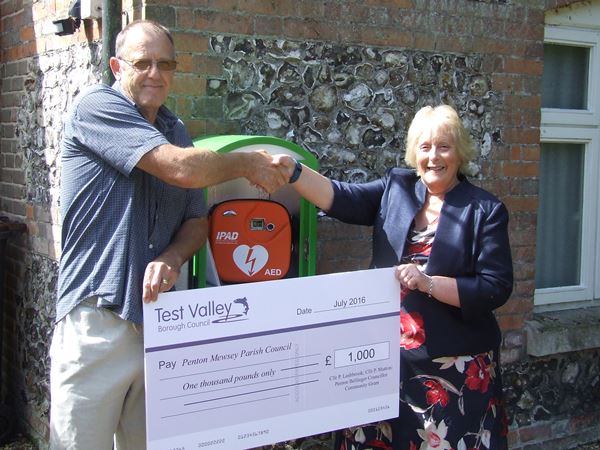 Community grant funds defibrillators
Life-saving equipment in Penton Mewsey
Two Test Valley borough councillors have awarded a £1,000 Councillor Community Grant to Penton Mewsey Parish Council to fund the installation of three new community defibrillators.

Penton Bellinger ward members, Councillor Phil Lashbrook and Councillor Pam Mutton, awarded the funds to the parish council as part of a wider fundraising campaign to purchase and install the life-saving equipment. The brand new defibrillators are located at Penton Mewsey Village Hall, Penton Corner and Bluebell Farm.

Councillor Phil Lashbrook said: "We are delighted to contribute £1,000 to this worthy project. It is vital that life-saving equipment is available in the borough, particularly in rural areas. This is an excellent example of a project identified by the community to benefit the community."
Councillor Pam Mutton added: "The defibrillators provide a valuable resource for the village. The equipment can triple the chances of survival and people can use them without needing training. In the event of an emergency, residents should phone 999 and obtain the access codes from the call operator."

Councillor Kevin Briant said: "We are incredibly grateful for the funding. The Councillor Community Grant scheme is a fantastic way to support projects that the community has identified a need for."

Test Valley Borough Council's Councillor Community Grant scheme helps to fund community-led initiatives. Local councillors allocate funds to projects that they identify as meeting a need in the community based on feedback and ideas from residents.