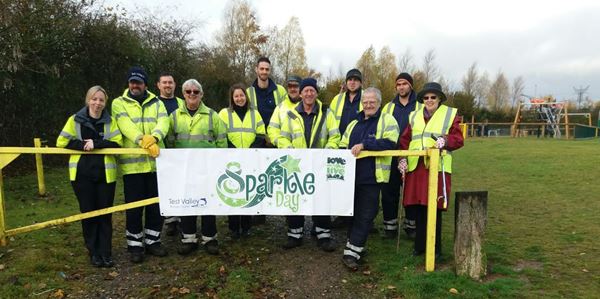 Saxon Fields is sparkling!
Cleaning up the area
On Thursday, 17 November, Test Valley Borough Council's Sparkle Day team visited Saxon Fields in Andover to give it a thorough clean-up. The team removed more than three tonnes of waste, including lots of autumn leaves, and also cut back shrubs, cleaned road signs and provided recycling information to more than 300 properties.
Environmental Portfolio Holder, Councillor Graham Stallard, said: "Once again I would like to thank the team for all their hard work. I would also like to thank Veronika Pond, Andover Town Councillor, for her help with clearing litter during the day."
The Council is always keen to hear from residents who wish to nominate their local area for a Sparkle Day. The next Sparkle Day will take place on Thursday, 26 January in the Donnington Drive area of Valley Park.