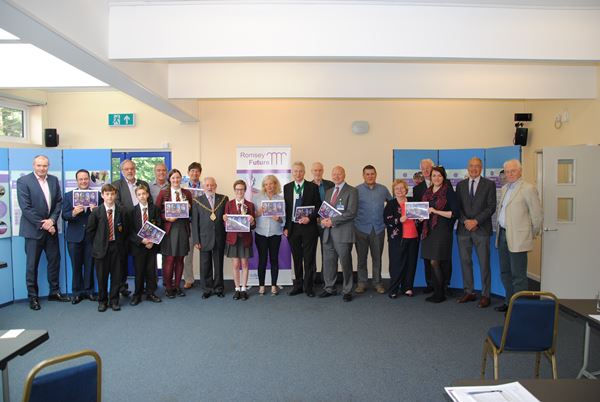 Romsey Future vision
Document sets out 20 year vision
Romsey Future has launched a new document setting out the vision for Romsey for the next 20 years.
On Monday 23 June, representatives from the local community and organisations involved in the Romsey Future project came together at Crosfield Hall to celebrate the launch of the vision document, which will help to steer future developments, events and projects in the town. They were also joined by pupils from The Romsey School, who shared their ideas for the future of the town.
Councillor Martin Hatley, who has been coordinating the Romsey Future project, said: "I am very pleased that we have now launched the Romsey Future vision document. Romsey Future has cultivated a new approach to building consensus, bringing together public, voluntary and private sector organisations and councillors to produce a community-led vision and set of deliverable ambitions for Romsey. Over the course of the past two and a half years, hundreds, if not thousands, of local people have had the opportunity to help shape the vision and its ambitions.
"Romsey Future sets out a long term vision for Romsey. Its intention is to have in place a plan of action to help Romsey deal with the changes it will face over the next twenty years. At its heart, Romsey is a historic market town with a very strong sense of community, which is something that Romsey Future seeks to embrace and enhance."
Launched back in 2013, the Romsey Future project aims to ensure that the town remains a vibrant and thriving place to live and work. Representatives from a variety of local businesses, organisations and councils have been involved in Romsey Future, which has already helped to deliver a variety of projects and events, including the Teenage Markets, new cycle routes and coach parking, enhancements to the Church Street area of the town and the opening of new youth facilities.
A rolling action plan is also currently in development to sit alongside the vision document. The action plan will cover a variety of areas including walking and cycling around the town, tourism, infrastructure, flooding, health and wellbeing, housing and planning. Romsey Future will work with partners to deliver projects, attract funding and guide future policies and strategies that will affect the town.
A copy of the vision document can be downloaded from www.testvalley.gov.uk/romseyfuture