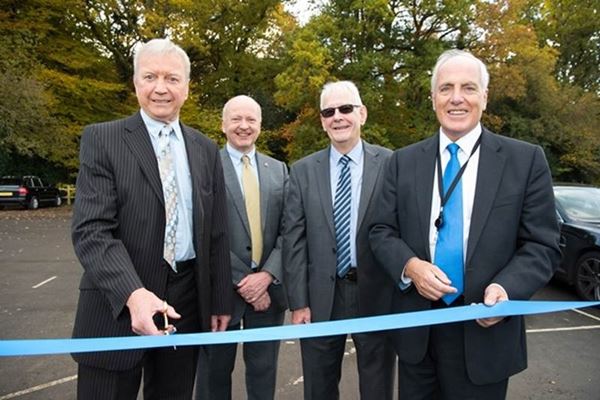 Councils fund extension
More spaces at Glendowan Road car park
Hampshire County Council, Test Valley Borough Council, Valley Park Parish Council and a local councillor have joined together to fund an extension to a Valley Park car park.

Glendowan Road car park has been extended by ten spaces to accommodate more visitors to the area, thanks to funding from Hampshire County Council (£11,000), Test Valley Borough Council (£15,000), Valley Park Parish Council (£2,000) and Valley Park ward member, Councillor Alan Dowden (£2,000). The extra spaces are located to the rear of the existing facility and will mean that more people can easily access the open space at the end of Glendowan Road.

Leader of Hampshire County Council, Councillor Roy Perry, said: "The County Council was ready to support this scheme to increase the capacity of the car park. Because I know parking is such an issue in the area, at times when children are being dropped off or picked up from the local school, I hope that the additional spaces will help to reduce that peak-time congestion, but I would still urge parents where it is practical, to walk with their children to school. That exercise at the beginning and end of the day is important."

Test Valley Borough Council Planning Policy and Transport Portfolio Holder, Councillor Martin Hatley, added: "I'm really pleased to support this project. The additional spaces will mean that even more people can access the area easily, whether that's dog walkers using the large open space area, ramblers or parents walking their children to the local school. Test Valley Borough Council also took the opportunity to provide a new footpath to link the car park to the open space, which has improved accessibility even further."

For more information about the project, contact Test Valley Borough Council on 01264 368000.