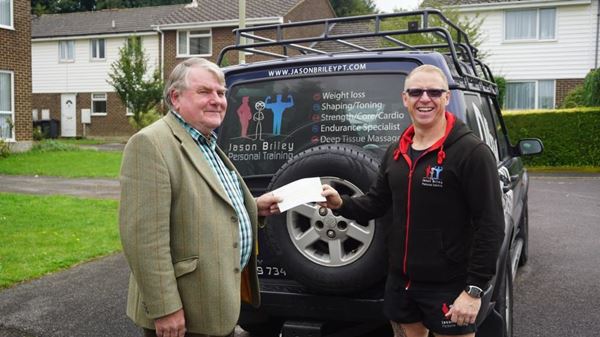 Fit for a financial boost
Jason Briley receives grant
A personal trainer in Andover has proved his new business is fit for a financial boost as Test Valley Borough Council has presented him with a £750 grant.

The Business Incentive Grant, which recognises the hard work required to launch a new company, comes as Jason Briley achieves a longstanding personal ambition to become a self-employed personal fitness trainer. Following six years in the army and representing Great Britain at the Triathlon Long Distance World championships in 2015, Jason launched his fitness company, Jason Briley Personal Training, in March this year. As well as being a fully qualified personal trainer and sports massage therapist, Jason also hosts boot camp and other types of fitness class in the town.

Jason said: "It's been a busy year! I really enjoy working with different people and helping them to achieve their fitness goals, whatever they may be. My clients range from people looking to build a basic level of fitness to those who are already exercising at an advanced level and wish to push their limits further. Having worked hard to lose a lot of weight myself over the years, my experience and empathy helps me to take the right approach with my clients. The Council has offered me a lot of support during my first few months as a business owner and the grant has been a welcome financial boost."

Winton ward members, Councillor Chris Lynn and Councillor Jan Budzynski presented the cheque to Jason. Councillor Budzynski said: "I'd like to congratulate Jason on the successful launch of his new business. Jason is an experienced personal trainer and has already helped many people to achieve their fitness goals. I wish him the best of luck with taking the business forward."

The Council's £750 Business Incentive Grants are available to anyone looking to set up their own business in Test Valley. Budding entrepreneurs should apply for the grant before they start their company and if it is still going strong six months later, then they will receive the cheque.